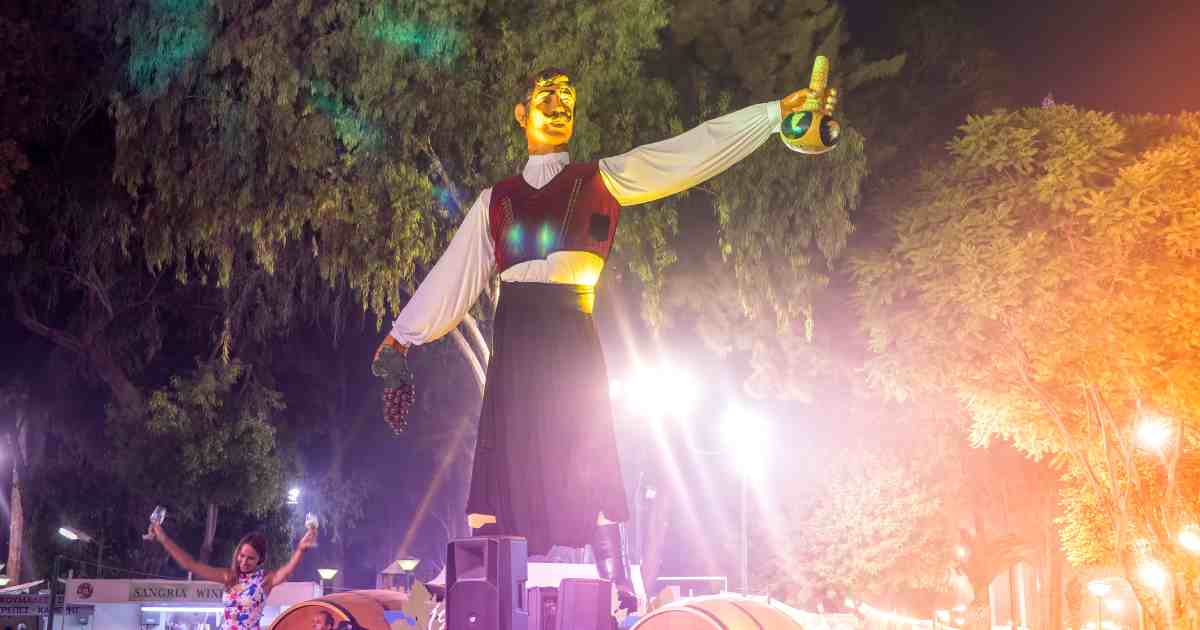 Limassol Wine Festival. It's that time of year again when Limassol Municipality and the big wine producers hold the annual Wine Festival in Limassol Municipal Gardens. Those that have been before know that this is the event of the year; for those who have not it is well worth a visit to experience why the festival attracts an annual attendance of over 100,000 visitors; not just from all over the island of Cyprus but from abroad as well…
First held in 1961 the Wine Festival is an annual event held primarily to celebrate wine and wine making in Cyprus: but it's not just about the wine. The festival has become synonymous with merrymaking. Festival goers attending the Municipal Gardens through the south gate will pass under the giant statue of a village wine maker dressed in the traditional Cypriot costume. This has been the symbol of the wine festival since 1961, welcoming everybody to the festivities. Inside the gate are the pavilions of the large wine producers. Once inside the wine flows for free. There are numerous stalls and places to eat traditional Cypriot dishes and mezes at reasonable prices. The evening's entertainment features live music, traditional dancing, theatre performances and, for those who feel the urge, grape treading.
The Cyprus wine industry is well worth celebrating. The island is renowned for its wine with a wine making tradition dating back at least 5,500 years. The industry has grown and developed and today contributes significantly to the Cyprus economy in terms of cultivation, production, employment, export and tourism. Most wine production remains based on a few varieties of local grapes such as Mavro and Xynisteri although international varieties are also cultivated. Wine production has shaped the Cyprus countryside and there are some fantastic wine tours through the wine villages of Limassol District. Anybody who wants to learn more about the history Cyprus wine and wine making should visit the Cyprus Wine Museum in Erimi which numerous artifacts and documents on display.
The Cyprus Wine Festival, Limassol 2023 will be held from 7th-15th October 2023 from 7:30pm – 11:30pm at Limassol Municipal Gardens. Entrance is €3 – €5. The programme, bus timetables and further information can be found on the Limassol municipality website or by contacting the Cyprus Tourism Organisation.