Wow – what an extremely hot August we have had!!! Not the best conditions for running but some of our members here in Cyprus have continued with their training, either attending the weekly scheduled club sessions or starting their training for the Athens Marathon. There have been some good performances despite the heat, but I think we can safely say "roll on Autumn".
Geroskipou Road Race
The annual Geroskipou road race held in memory of all Geroskipou heroes took place under the hot summer Cypriot sun on Sunday 30 July. Always a very successful, well attended race with the distance being just under 4K but ending in a demanding hill climb back to the square.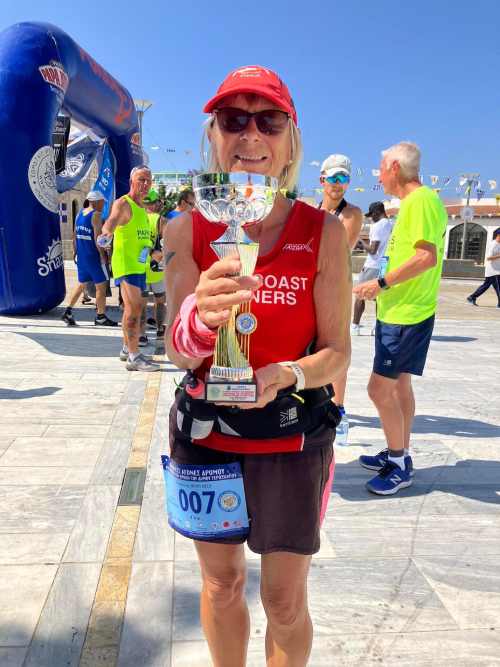 At the finish, plenty of drinks and refreshments were readily available for all the runners, the cold drinks being especially welcomed. Various trophies were handed out to winners of their respective age groups, and we are pleased to report that one of our members, Di Nash, received a trophy for second place in her age group, well done Di. As always, a great atmosphere and it's always good to support local events.
Kathikas Fun Walk-Run
It was the 14th year for this friendly event which takes place on the first Sunday in August. Thankfully it starts at 6.30 a.m. where 100+ walkers/runners leave Kathikas and travel 14km, mostly downhill, to Agios Georgios. We had a good turn out from WCR and everyone enjoyed it and were very grateful for the refreshments put on at the end. Well done to all participants and a big thank you to the organisers. See you in 2024.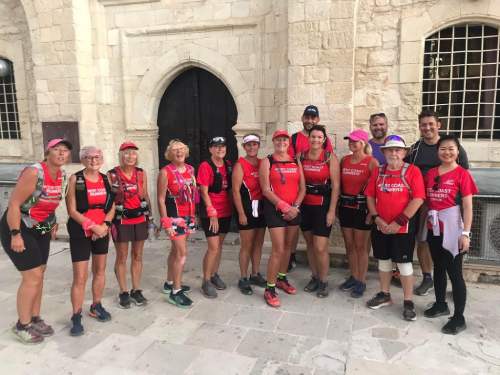 Monthly Handicap
Still all to run for in our monthly handicap – could we have a new winner this year?? Only 3 more challenges before the final points are counted.
New Members
We extend a warm welcome to the following new members who have joined WCR recently: Christoforos Savvas, Jo Parry, Karen Brand, Julie Zhu, Marie Singleton, Kathy Kaiser, Wendy Osborne
We look forward to running with you all.
Coach to 5k (C25K) Course
This month also sees the start of our new 10-week New Runner's Course, Couch to 5K, commencing on Monday 11 September at 5 pm starting from "Tea for Two", Poseidonos Avenue 56, Paphos. Whether you have never run before or are returning after a break, West Coast Runners promise you a warm welcome and lots of help and encouragement. We've held very successful C25K courses over previous years, so you're in good hands. The cost of the course is €5.00 which will include weekly mentoring sessions, so join us for a fun and supportive way to your first 5K!
For further information please contact Diana, Course Leader on 97761015.
So, if you are new to running, returning to running or on holiday & you would like to join us at any of our sessions please take a look at our schedules which can be found at the top of our Facebook page or call Christine on 97757159 or Gerry on 99926291 for any further information.
Happy Running Everyone!
West Coast Walkers
Don't forget we also have our walking group that meets every Monday morning. The walking group is increasingly popular and is open to anyone who enjoys walking, meeting like-minded individuals, experiencing walking along the coast and exploring in and around the Paphos area. We welcome all walkers whatever your ability, young and the not so young! There is something for everyone to enjoy. Please see the West Coast Walkers Facebook page for meeting points and start time.