Here we are halfway through 2023 already. It's certainly been a busy time for West Coast Runners and it looks like the this will continue for the rest of the year. Lots of local races coming up and plans being made for several members to take part in the Athens 40th Anniversary Marathon, in November, it's going to be awesome.
Nicosia 10k – Neil Bithell race report
Another competitive run out in Nicosia, not my best time but enjoyable one after a late start of 3 p.m. This was a small event organised by World Marathons. On completing my entry, I was asked for my T-Shirt size but on arrival there was no sign of a T-Shirt, but we were given a box of breakfast cereal and a hat!!!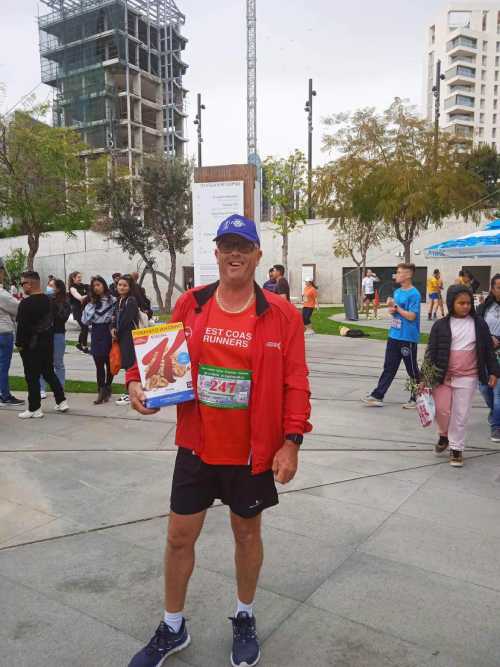 Fun Run CY
The 5km Fun Run came to Paphos on a very stormy day in May. Despite the weather there was a reasonable turnout and we managed to complete the 5km between the thunder and lightning that was rumbling around before and after. The weather gods were certainly kind to all runners that day.
Couch-to-5K
This year's course finished at the end of May with a final run of 5km achieved by all participants. Well done to everyone who took part and to all those members that helped along the way.
Monthly Handicap
Last month's handicap was postponed by a week due the to the storms, however the "guess the distance" session was completed with some good guesses. Will be interesting to see how the rest of the series plays out, who will be this year's winner?
Club Relay and Family BBQ
The Club Relay and BBQ took place on Sunday 14 May. Three teams participated in the relay and the first runners set off in what turned out to be one of the hottest days of the year. There was good running by everyone. The relay was followed by a Souvla BBQ which was enjoyed by members, families and friends. Some even managed at swim even though pool temperature was only just over 26 degrees. Planning will start soon on another event later in the year.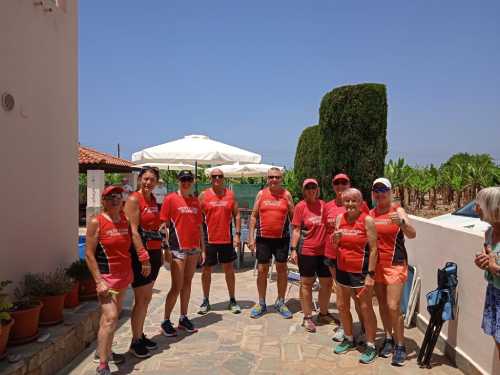 Oversea Members
Our club has many members from overseas who join us whenever they are in Cyprus. Recent new members Sarah & Richard Holden had this to say about joining West Coast Runners;
For the last 10 years we have travelled to Paphos on a regular basis (we got married there 22 years ago). We have run the Paphos Marathon 6 times and taken part in the 4-day challenge. During all these events we have been taken back how supportive and welcoming West Coast Runners are to everyone. Their support during these races was sometimes the only reason I kept running!
Last year we emailed regarding joining them and arranged to meet for a run in November. We were welcomed with open arms. They have a 'non-drop policy' and as I was recovering from an injury this was really welcoming as I was very slow! All faster runners turn back and regroup.
This March we returned, paid the membership, bought the t shirt, and went to all the runs planned over the two weeks (roughly every other day) It absolutely made our holiday. Just after a few short runs we felt REALLY part of the club. We are still in contact with a few of the regulars and are returning in July and can't wait to meet everyone again.
So, if you are new to running, returning to running or on holiday & you would like to join us at any of our sessions please take a look at our schedules which can be found at the top of our Facebook page or call Christine on 97757159 or Gerry on 99926291 for any further information.
West Coast Walkers
Don't forget we also have our walking group that meets every Monday morning. The walking group is increasingly popular and is open to anyone who enjoys walking, meeting like-minded individuals, experiencing walking along the coast and exploring in and around the Paphos area. We welcome all walkers whatever your ability, young and the not so young! There is something for everyone to enjoy. Please see the West Coast Walkers Facebook page for meeting points and start time.