February has certainly been an eventful month.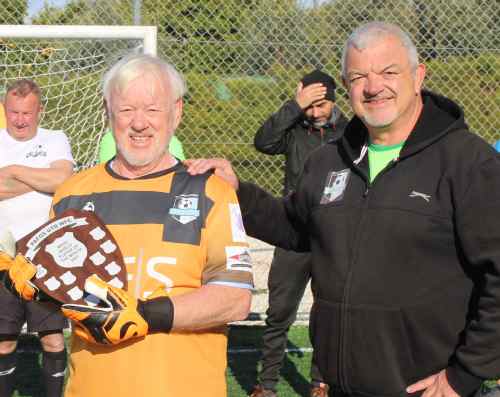 In early February we celebrated our 4th birthday. The event was marked by a free session followed by a buffet prepared by members.
Later in February we received exciting news from The UK Walking Football Association that John Fitzsimmons had received an award as International Referee of the Year and Tony Watson the International Coach of the Year. The club were honoured to receive a Commendation in the International Club of the year Awards. It just highlights the progress made since that cold day in February 2019 when 15 players turned up not knowing the rules and dressed in an assortment of football attire.
Our latest Ladies Player of the Month award went to Jackie Scattergood who impressed through her commitment, willingness to learn and encouragement other ladies during training.
Dave Buckley turned back the years to win the award as men's Player of the Month for the second time having once again excelled in goal.
We now turn our attention to our first lady's tournament involving teams from Cyprus and various teams from the UK. The event over three days starting 22 March, sponsored by Chase Buchanan, has involved a great deal of planning and we look forward to a competitive and friendly event. Other events planned for March include an in house inter village competition.
Saturday 8 April we are holding an open day to attract even more members. More details next month or contact our secretary [email protected]