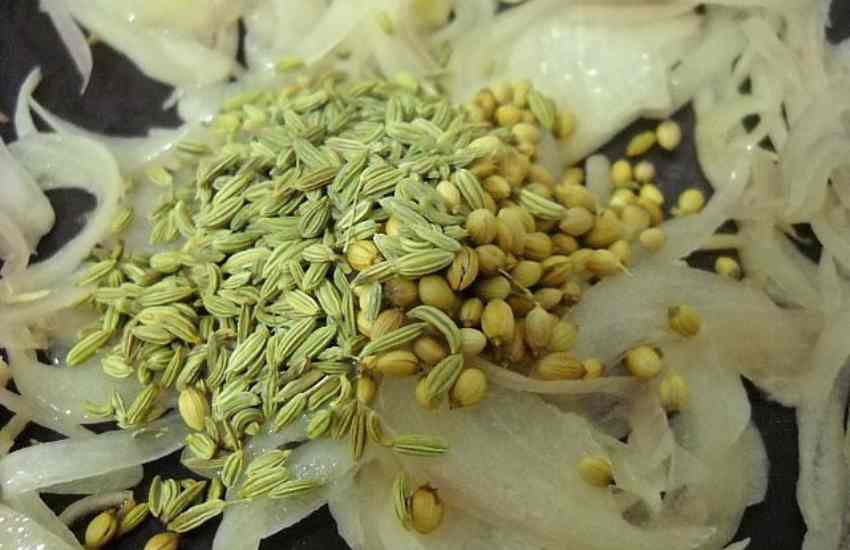 All herbs and spices come from seed bearing plants. Some are used just fresh while others are also used dried. Their seeds, pods, leaves or in some cases roots are ground into spices, enjoyed in culinary use and for their many health benefits. More than 600 herbs and spices are found in Cyprus, some indigenous and others imported through trade with other civilizations.
Coriander and Fennel are two popular herbs that grow well on the island, to be enjoyed fresh in salad etc. and dried for the seeds to be used whole or ground.
Coriander seeds are rich in minerals, such as copper zinc and iron, and are also rich in antioxidants and vitamin K. They are warm aromatic spices that can be added to sweet and savoury dishes.
Fennel seeds are rich in minerals too, such as potassium, due to their cooling quality they support digestion and can relax the digestive tract thus helping IBS symptoms. Fennel seeds add a gentle aniseed flavour to food and have a sweet aroma.
Together coriander and fennel bring a subtle fragrance and sweetness to meat and fish dishes, sauces, even to homemade bread and cookies.
Here are two of our favourite recipes with these two spices!
Pork Tenderloins with Coriander and Fennel
Pork tenderloins with coriander and fennel is packed with flavour, inexpensive, and goes from fridge to table in less than an hour.
Ingredients
2 tablespoons fennel seeds
1 tablespoon coriander seeds
1/2 teaspoon black peppercorns
Two (1-pound) pork tenderloins
Extra-virgin olive oil
Salt
1 small (2 lbs) head green cabbage
2 tablespoons (1 oz) unsalted butter
2 sprigs fresh thyme
2 garlic cloves crushed
Instructions
In a small skillet over low heat, lightly toast the fennel and coriander, tossing constantly, until they take on some colour and become fragrant, about 2 minutes. Leave to cool.
Using a or spice grinder, crush the toasted spices and peppercorns, then spread them on a small plate
Rub the tenderloins with olive oil, then roll them in the spices to coat on all sides. Cover with plastic wrap and marinate in the refrigerator for at least 1 hour, or better yet, overnight.
Remove the tenderloins from the refrigerator and let them sit for 45 minutes to bring them to room temperature before roasting.
Preheat the oven to 350°F (177°C).
Remove the outer leaves of the cabbage and slice it in half. Leaving the core intact, slice each half lengthwise into 1-inch-wide (25-mm) planks.
In a large ovenproof skillet over medium heat, warm 1 tablespoon of oil. Sprinkle the tenderloins with a generous pinch of salt. Sear, turning occasionally, until they've browned on all sides, 5 to 10 minutes.
Transfer the skillet to the oven and roast until the pork is cooked to medium (about 145°F or 63°C), 10 to 20 minutes. Allow to rest for 20 minutes.
Meanwhile, in a skillet large enough to hold the cabbage in a single layer, melt the butter over medium heat. Once melted, turn the heat to low and add the cabbage in one layer. Add the thyme, garlic, and a pinch of salt. Cover and let the cabbage caramelize without nudging until the pieces are soft and nicely browned, 20 to 30 minutes. Place onto a serving plate browned side up.
To serve, cut the pork horizontally into 3/4-inch-wide slices and arrange next to the cabbage, pouring any juices that have pooled over the top.
Grilled Salmon
Ingredients
1 1⁄2 tablespoons fennel seeds
1 1⁄2 teaspoons coriander seeds (or 1/2 teaspoon ground coriander)
6 (6 ounce) salmon fillets
salt
pepper
olive oil
Instructions
Prepare barbecue.
Grind fennel seeds and coriander seeds using a mortar and pestle or spice grinder.
Brush both sides of the salmon with olive oil and then sprinkle both sides with salt and pepper and then the spice mixture, pressing to make sure the spices adhere to the fish.
Grill salmon, covered, turning once – about 10 minutes or until done or when centre is opaque.
For more recipes or info visit www.spiceandeasycyprus.com or call us on +357 99104622