West Coast Runners Cyprus
It can be difficult to start something new or find like-minded people to run with, especially in a new area, but look no further, WEST COAST RUNNERS will always give you a warm welcome. We are a small friendly club, all committed to enjoy running, we like to run anywhere from city streets to coastal paths to scenic mountain trails. Whatever your age or ability you will always find someone to run with and encourage you on your running journey. So, why don't you come and join us on our weekly runs. You cannot miss us; look out for the RED tops. We look forward to meeting you. See our Facebook page for the latest monthly schedule.
The Abbot World Marathon Majors
West Coast Runners International has been busy again, this time in the form of Dave Thompson. Dave recently completed the Tokyo Marathon which was his third marathon out of a total of six. Dave is undertaking the Abbot World Marathon Majors, the ultimate goal is to run all six and earn the Six Star Medal. The six majors are Tokyo, Boston, London, Berlin, Chicago and New York. Dave has already completed the New York Marathon in 2019, the London Marathon in 2020 and now Tokyo and at the end of this year, he will be completing the Berlin and Chicago Marathons, which will give him a total of five. Dave is expecting to complete the Six Star World Marathon Challenge in Boston 2024. Dave says that, "Japan overall is a fantastic place to visit, the weather conditions at the time of the marathon were very similar to UK weather, especially Manchester where I live, cold, windy and wet. Dave also stated that, "If there is anybody from West Coast Runners looking for a challenge, I would definitely say take a look at completing the Six Star World Marathon Majors it is and will be a fantastic challenge overall.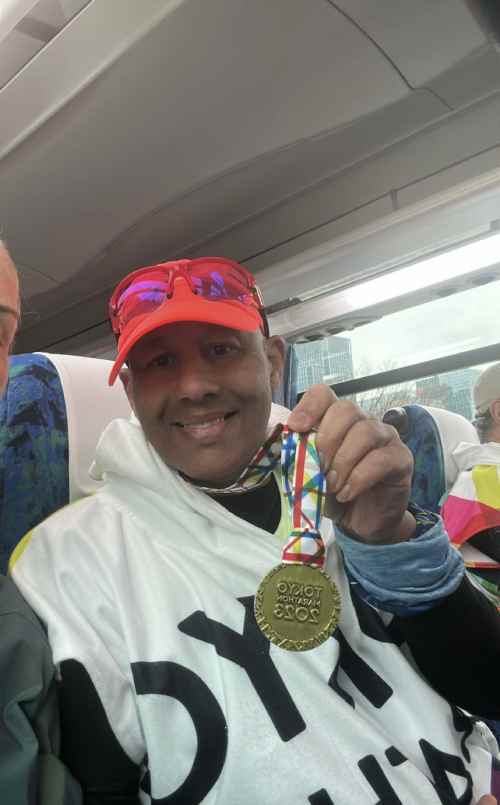 Gosh, what an achievement so far and we look forward to hearing about the rest of Dave's Six Star Journey.
Introduction to the World of Marshalling by Di
Having taken part in the past two Logicom Half Marathons in appalling weather, I decided that I would marshal the 2023 Logicom races, which was a good decision on my part, as about 3 weeks prior to this year's events I managed to fracture my right shoulder!
I and three other members of West Coast Runners were stationed at the 30k Fluid Station in the vicinity of Acheleia. We were situated in a very sheltered lane which was a very good spot for marshalling as we could see the runners approaching from a fairly good distance. We handed out water bottles, sponges and also electrolytes if required. To start with, we didn't have too much to do as the majority of the lead runners were just speeding past our station and only a few paused to take a bottle or a sponge. However, when the majority of the runners appeared, it was quite challenging to keep up handing out water bottles etc. I really did enjoy marshalling, having been a runner for a very long time and ran numerous marathons; it was so good to offer support and encouragement to all the runners because what they need most, especially for some of them, at 30k, is simply just that!
I am planning to run the Logicom Half Marathon next year, but look forward to marshalling running events again in Paphos. Volunteering for running events is so important and West Coast Runners are only too happy to help.
Couch-to-5K
Our latest C25K plan which started on 13 March is going great and our fledgling runners have made amazing progress over the last few weeks. They have gone from running just 1 minute at a time to running non-stop for 10 minutes! To mark their incredible achievement, we will be holding a grand finale 5km run on Saturday 20th May and we are very excited to see all our new runners achieving their goal! If you have missed out this time around and you are keen to start running, you don't have to wait for the next C25K. We usually run 4 times a week and many of the runs are suitable for new or returning runners. Don't worry about getting lost or not keeping up – we will look after you!
Monthly Handicap
The monthly Handicap continues on the last Saturday of the month with a variety of events. Ron volunteered to manage the events in Alan's absence and it's starting to get competitive.
Club Relay and Family BBQ
Final preparation for the Club Relay and BBQ is in full swing, and will take place on Sunday 14 May. It's going to be a fun day!
If you would like to join us at any of our sessions please take a look at our schedules which can be found at the top of our Facebook page or call Christine on 97757159 or Gerry on 99926291 for any further information.