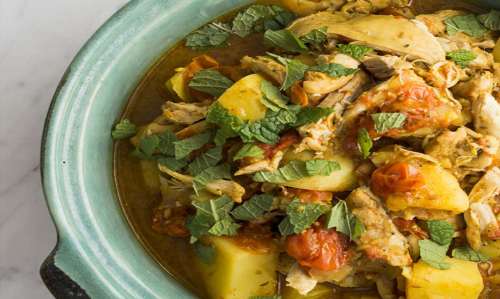 Our culinary adventure this month includes East and West Africa and down to South Africa.
In East Africa whilst barbecue meats are very popular, meat is not generally eaten daily, rather, starchy grain-based foods are most commonly eaten, to include beans, corn, and sauteed wild leafy greens!
Ugali is a staple made from cornmeal with a popcorn like taste. It is mixed with boiling water and thickens to dough like consistency. Small balls of it are used like a scoop with an accompanying stew of fish, meat, or vegetables.
Both east and West African cuisine have been greatly influenced by dishes from the Middle East and of course India. These cuisines include tropical fruits, seafood, and rich spices along with lots of chilli!
Whilst West African cuisine is also mainly vegetarian, seafood is popular nowadays with chicken being the most popular meat. We hope you like this recipe, it is one of our favourites and one of the West Africa's most popular dishes.
Jollof Rice with Chicken – A one-pot chicken and rice casserole with a deliciously mild tomato-based curry sauce that's great for the whole family. (gluten-free, dairy-free)
Ingredients
2 pounds boneless skinless chicken breast, cut into 1 ½-inch cubes
1 tablespoon minced garlic, divided
1 tablespoon finely minced or grated ginger root, divided
2 teaspoons salt, divided
½ teaspoon Aleppo pepper or crushed red pepper flakes
½ teaspoon freshly ground black pepper
5 tablespoons cooking oil (such as light olive oil or sunflower)
1 red bell pepper, trimmed of ribs and seeds, chopped (1 ½ cups)
4-5 carrots, scraped and sliced into thin rounds (1 ½ cups)
1 medium yellow onion, finely chopped (1 cup)
1 teaspoon curry powder (Spice&Easy Indian Spice Blend works well)
1 6-oz can tomato paste
1 bay leaf
3-4 cups low-salt chicken broth, divided
2 cups long-grain white rice, rinsed
2 cups tomato puree (canned crushed tomatoes)
1 cup frozen peas, defrosted
Instructions
Preheat oven to 350ºF.
In a large bowl, toss chicken with marinade ingredients: garlic (1 teaspoon), ginger (1 teaspoon), salt (½ teaspoon), Aleppo chili pepper (½ teaspoon), and black pepper (½ teaspoon). Leave to marinate for 10 minutes.
Heat oil (2 tablespoons) over medium-high heat in a large heavy oven-ready pot or Dutch oven, with a lid. Add half the chicken and cook for about 3 minutes, tossing occasionally, until lightly browned. Transfer to a plate. Add 2 more tablespoons of oil to the pot and repeat with the rest of the chicken.
Heat the remaining tablespoon of oil, add the rest of the garlic and ginger, the bell pepper, carrots and onion. Cook, stirring, for 3 minutes until slightly softened and fragrant. Add the curry and cook, stirring, for 30 seconds or so. Add tomato paste, 1 cup of chicken broth, the remaining 1 ½ teaspoons salt and the bay leaf. Stir to combine. Add the rice (2 cups) and stir well so all the grains are coated. Add the chicken back to the pot, along with any accumulated juices. Add tomato puree and chicken broth. Bring to a boil. Turn off the heat. Cover the casserole bake in the oven for 20 minutes. Remove from oven briefly, add the peas and stir through. If rice looks dry, add another half cup of broth. Cover and return the pot to the oven for 15-20 minutes longer, or until the rice is tender.
Serve hot with a side of sautéed greens or a simple green salad.
---
We are so lucky here in Cyprus, to be able to enjoy many specialities of South African cuisine easily. Whilst Biltong originated as a means of preserving various meats, it is first marinated in various spices, cured, and dried. Today it is the most popular snack enjoyed by many with a beer! Our favourite is Boerewors, again a delicious meaty, spicy sausage unique to South African cuisine. We just grill, cut into bite sized pieces and serve with a little mustard on the side, perfect as an appetiser whilst waiting for the braai!
Do try these South African treats, both readily available here, if you haven't already done so! As for the delicious currys found in South Africa, our favourite spice blend is Bo-Kaap Cape Malay curry mix, you can find many recipes for this blend online. here is our favourite veggie Curry recipe.
---
Cape Malay Vegetarian Curry
Ingredients
1 tbsp Spice&Easy Bo-Kaap Cape Malay Spice Blend
handful dried apricots
1 tbsp olive oil
1 red onion, roughly chopped
1 red pepper, seeds removed, roughly chopped
1 yellow pepper, seeds removed, roughly chopped
2 garlic cloves, finely chopped
1 small cauliflower, cut into bite-sized pieces
400g tin chickpeas, drained and rinsed
handful green beans, roughly chopped
1 heaped tbsp peach chutney
2 tbsp roughly chopped parsley
320g/11oz long-grain rice, to serve
4 flatbreads, to serve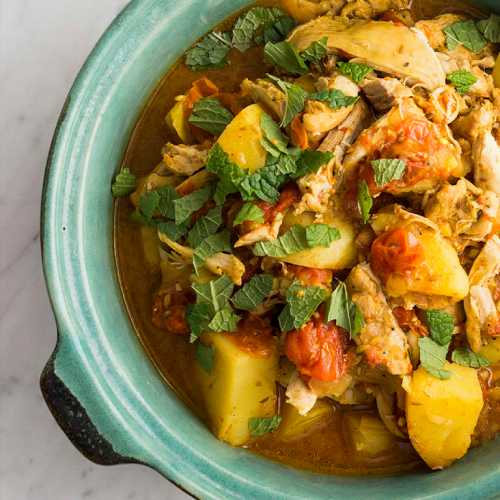 Instructions
Put the dried apricots in a bowl of warm water for 10 minutes, or until rehydrated. Drain, cut into thin slices and set aside.
Heat the oil in a frying pan over a medium heat. Add the onions, peppers and garlic and fry for 10 minutes, or until soft.
Stir in a tablespoon of the Bo-Kaap Cape Malay spice mix. Add the cauliflower, chickpeas and green beans. Carefully pour in a little boiling water and simmer for 10–15 minutes, or until soft.
Meanwhile, cook the rice according to the packet instructions.
Stir the dried apricots and chutney into the curry and sprinkle over the parsley. Serve with the rice and flatbreads.
---
Next month we're off to savour the culinary delights of the Middle East
For more recipes or info visit www.spiceandeasycyprus.com or call us on +357 99104622