We are half way through 2022 already and it has been a busy time for the West Coast Runners. There have been lots of different runs and challenges undertaken by many, here are reviews on just a couple of them.
Troodos Jubilee 11K Mountain Run
Pauline, Claire, Christine and Di took part in this event at the end of May. All said they really enjoyed the run and the stunning scenery in the beautiful Troodos mountains. They may have got very slightly lost along the way because for some reason they kept meeting the other runners coming towards them from the opposite direction who very politely asked them "are you running it in reverse ladies". However, they finally completed the run and would like to thank the Organizers for making the run so enjoyable and fun and also providing a delicious lunch afterwards.
Paphos Round 6km
Nine members too part in this race on 5th June. Again, we must say this was a well organized event, albeit it was one of the hottest days of the year so far. The route was a challenging 1.5 x 4 loop starting near Kennedy Square. The event was well supported along the way and we must say particular thank you to our own faithful marshall, Roy Bell for stepping up again. It was another successful run for the club with Di & Claire taking 3rd in their age groups and new member Steve taking 1st in his. Well done everyone.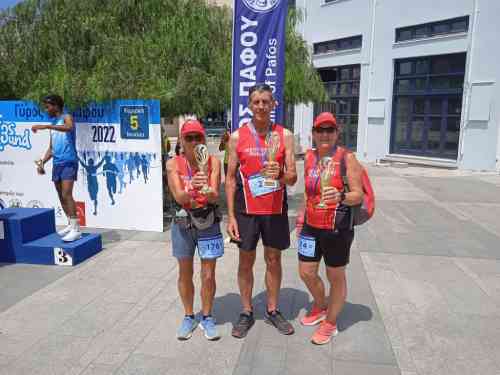 Monthly Handicap
A good turnout at the end of May for the handicap, pacing was the aim, again without watches, and we were targeting our previous 5km times with 90 secs added on. Its quite a challenge to run a bit slower, for some anyhow!! We are all enjoying the different challenges set by Alan and look forward to the next few months.
Social
We had a lovely Sunday social at Sentiero-by-the-Sea in June which turned out to be a rather longer lunch for some. A great afternoon, to be repeated again soon.
Upcoming Events
Monthly Handicap – last weekend of each month
Social – picnic & games on the beach – date to be confirmed
Club Relay and Family BBQ – June 19th
West Coast Walkers
Don't forget we also have our walking group that meets on Monday mornings, exploring the Paphos & surrounding areas and you are all welcome to join us – please see the West Coast Walkers Facebook page for meeting points.
Our runs are open to all whether you live in Cyprus or are here on holiday so if you would like to join us at any of our runs please check out the schedule which you can find on our Facebook page or website www.westcoastrunnerscyprus.org for all the up-to-date information.
You can also call Christine on 97757159 or Gerry on 99926291 for any further information.
Happy running everyone!