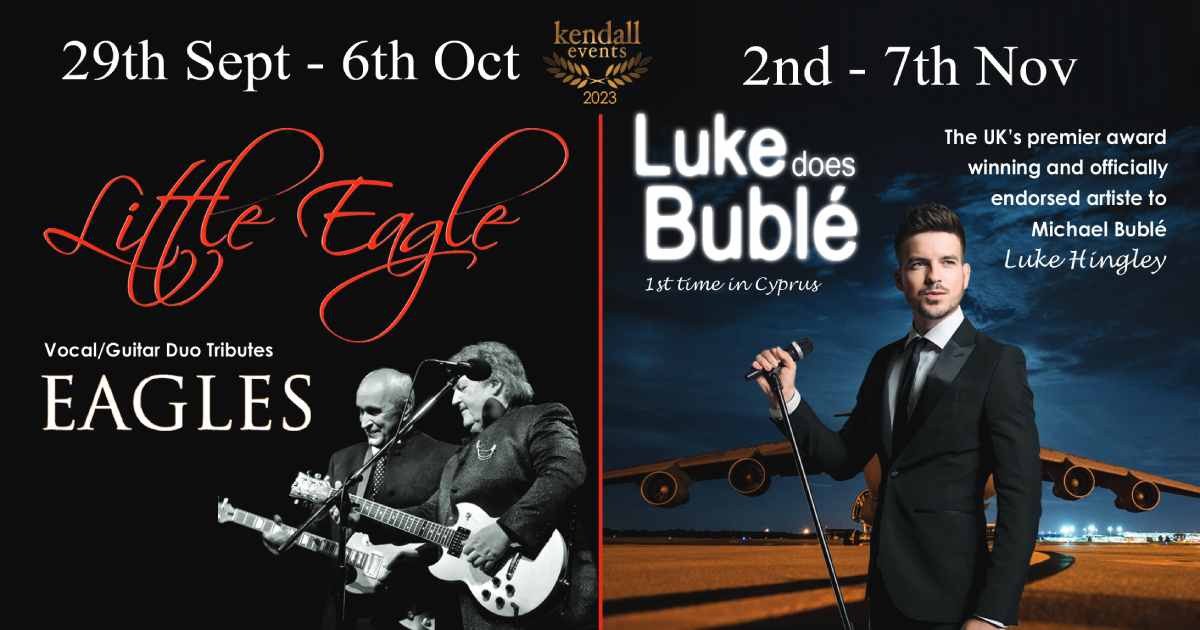 Back by popular demand Little Eagle duo with their vocal/guitar tribute to the Eagles. Followed by Luke Hingley as Michael Bublé, first time in Cyprus and endorsed by the man himself!
OCTOBER
The Eagles Songbook is something to behold, celebrating the history and classic songs of this iconic American band. Performed by international duo "Little Eagle", the format of the show involves the greatest hits coupled with a narrative explaining the bands fascinating history and covers songs from the early years, "Take it easy", "Best of my love", and moves through the years to include the classics "Hotel California", "Life In the fast lane" and then "How long" from their current period.
Little Eagle are thought to be the only duo in the UK performing a tribute to The Eagles, producing an incredible sound from just two people, involving vocals and guitar work, faithful and authentic to the sound of the original songs.
Monday 2nd October – Bonamare Beach Bar/Café in Timi
(Paphos Airport Road)
Doors: 18:00 Show: 19:30
€20 (set menu available, payable on the night)
Buy tickets from Bonamare Beach Bar
Thursday 5th October – Vasilikon Winery, Kathikas
Doors: 18:00 Show: 19:30
€39 Includes buffet
Buy tickets from Vasilikon Winery
Friday 6th October – Ampelones in Peyia
Doors: 18:00 Show: 19:30
€20 (souvla buffet available, payable on the night)
Buy tickets from Britannia Kiosk in Peyia
NOVEMBER
Luke Hingley Award winning and endorsed by Michael Bublé himself!
Luke Does Bublé is an award-winning masterpiece of stage and vocal recreation, oozing authenticity with Bublé himself giving his stamp of approval to his show. The moves, the sound, the persona, Luke has it all. You will not want to miss the chance to see his mesmerising performance.
Vatouthkia Restaurant in Koili, Tala
Thursday 2nd November.
Door Opens: 6:00pm, Show Starts: 8:00pm
€36 Includes 3 course buffet, tea/coffee
Tickets available from Vatouthkia Restaurant
The Vineleaf Tavern in Pissouri Bay, Pissouri
Friday 3rd November.
Doors open: 6:30pm, Show Starts: 8:00pm
€34 Includes 2 course buffet
Tickets available from The Vineleaf Tavern
Ampelones Hall in Peyia, Paphos
Monday 6th November
Doors Open: 6:30pm, Show Starts: 8:00pm
€20 Set menu available, paid separately on the night
Tickets available from Britania Kiosk in Peyia
Bonamare Beach Bar in Timi (Paphos Airport Road)
Tuesday 7th November
Doors Open: 6:30pm, Show Starts: 8:00pm
€20 Set menu available, paid separately on the night
Tickets available from Bonamare Beach Bar
All tickets can also be bought online from www.kendallevents.com, where you can find more exciting concerts happening this year.
Call or text 00357 96818066 to reserve,
or message us on Facebook: Kendall Events
Email: [email protected]