"Adding Life To Days, When Days Can No Longer Be Added To Life"
I have had the pleasure of living on Cyprus for a few years now having moved here from the UK. During that time, I have visited the various charity shops on the island (all do a fantastic job for their respective charities). This includes St Michaels Hospice Charity shops, and fundraising activities.
I started to think about this charity and wanted to know more about the hospice and was lucky enough to be invited to meet the CEO Mona Theocharides and have a tour of the hospice. It was an enlightening experience, and I would like to share my visit with you. I hope once you have read my article you will have a clear understanding of the work and commitment of those involved.
I would like to start with a little background and personal information about Mona and her views on the hospice and some of her ideas and wishes for the future before explaining more about the hospice.
Mona was born in the UK to Cypriot parents. They moved back to Cyprus very early in her life and she grew up here, returning to the UK to complete her education. She obtained degrees in Psychology and Sociology and a master's in human resource management. A few years living and working in the USA followed, eventually returning to Cyprus. She was then introduced by her friends to the hospice project and spent a lot of her time as a volunteer, going to events and raising money for the hospice. (Sadly, one of those very close friends Michelle Brooks died of cancer last year). Once the hospice was close to opening the position of CEO became available, and Mona was appointed. One of early achievements was to ensure that all the necessary certifications and licences were obtained.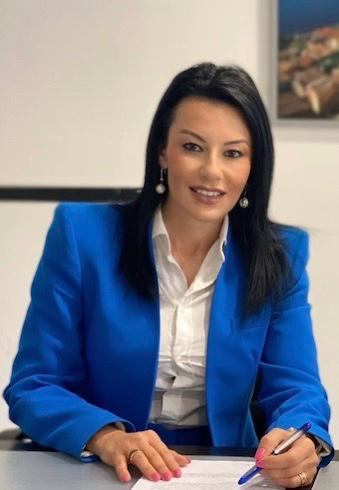 The role of CEO is not a normal 9-5 five-day week position. She is always on call and is often at the hospice at week ends and early hours of the morning and late at night. Finding time for a social life and family is difficult, but with her two sons now at university this has eased the problem. T o help with her social life she often tends to combine this with different things that will help the hospice. Mona is clear to point out that all the staff and volunteers at the hospice are dedicated to their roles and without their continued support the hospice could not exist.
Amongst many achievements in her position is the twinning of the hospice with the Earl Mountbatten hospice on the Isle of Wight in the UK. As the existence of hospices in the UK is multiple and have existed for many years the exchanging of ideas, training and attending seminars has proved extremely beneficial.
The Archangel Michael Hospice is building history in Cyprus particularly in Paphos. Mona explained to me there is a hospice in Nicosia, but it only caters for cancer patients and no children. For many patients who may not have any family or difficulty travelling to Nicosia this highlighted even more the need for the hospice in Paphos. Originally the hospice tended to be mostly used by ex pats but as life changes in Cyprus more and more Cypriots understand the need for this facility, as giving 24-hour care at home is not easy for anyone.
Mona is very keen to help expand the hospice services into homecare. Currently this is only generally offered to cancer patients in cooperation with Pasykaf and many other associations.
She also talks about the changes in the thought process by people and families who are in this position and the fact that many are now better prepared and are looking to plan. The hospice can help with this even with funeral arrangements.
We then went for a walk around the hospice. I must highlight for obvious reasons we did not disturb any of the patients.
The building was opened in 2015. It is set in a peaceful location in the village of Mesa Chorio. The land was donated by Latin Patriarch of Jerusalem and has a 95-year lease for use as a hospice. It currently has 9 bedrooms in total, each with ensuite facilities and very spacious. One of these rooms is dedicated for palliative care to children. There is a lower floor that could add another 16 – 20 rooms but at the moment this is not financially viable. The only source of income is through charitable donations and St Michael Hospice Charity whose shops are the biggest source of their income. Other events and private fundraising also help but there is no government support. The building also incorporates dining facilities with a comfortable lounge area, roof garden and terrace, chapel and the recently completed "Garden of Memories".
The facility is staffed by fully qualified, registered, licenced nurses, (Currently it is not registered with GESY, although Mona is hoping this may happen in the very near future and this would make a huge difference), and supported by a team of trained volunteers. Doctor Natassa Mala leads this team and offers her services free of charge. The hospice also offers extra facilities for patients including Physiotherapy, counselling, art therapy, music therapy, massage, hairdressing, beautician and more. All free to the patients. They also recently joined forces with Pasykaf, to be able to offer better homecare service, and palliative care at the hospice. The hospice meets all requirements demanded by the Ministry of Health and is regularly inspected. These inspections are random, and no notification is given, the inspectors will arrive anytime unannounced, and failure to meet the standards would result in closure.
The hospice offers palliative, respite and end of life care to all of those in need, regardless of nationality, race, religion, or the nature of the terminal illness. Good care and dignity at the end of life.
My time spent with Mona and at the facility certainly confirmed my belief that the Archangel Michael Hospice needs as much help and support as you can afford to give. If you are a business owner and would like to donate or sponsor the hospice or if you would like to include the hospice in your will, or donate in any other manner, organising coffee mornings, sponsored events, please contact Mona directly for advice on how to do this. All contact details are shown and the end of this article.
Ayias Marina 1, 8290 Mesa Chorio, Pafos, Cyprus.
+357 99494140
[email protected]
Archangel Michael Hopsice
www.archangel-michael-hospice.com
This article was written by and belongs to Robin Marshall of Hazropromotions.