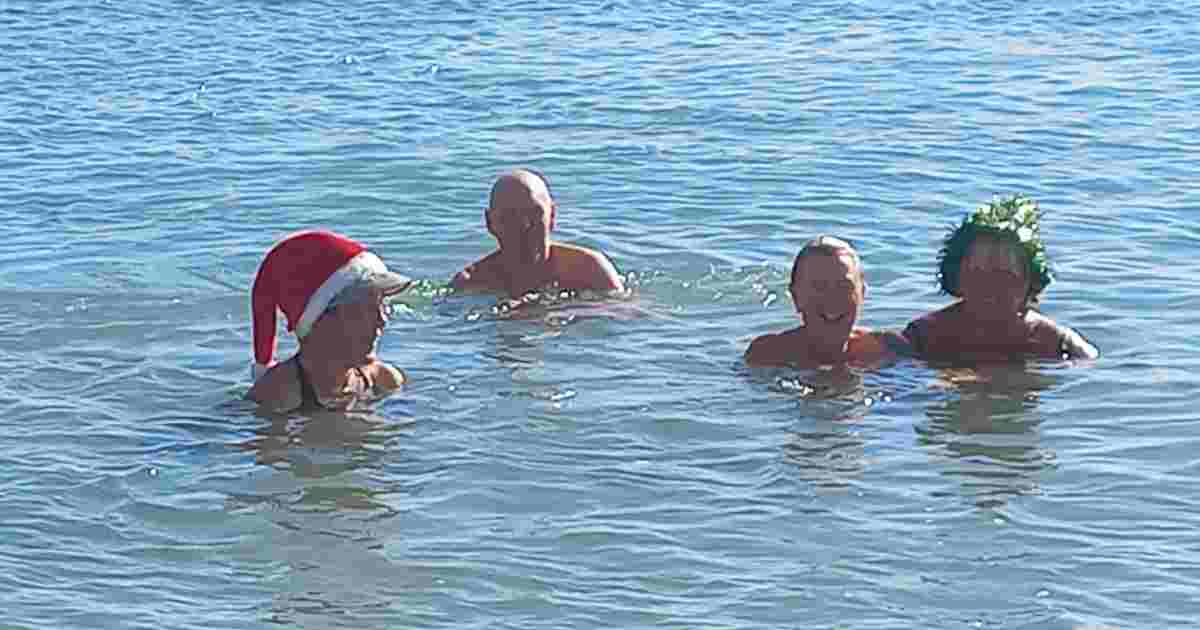 My main reason for living here is to be close to the beach, and in summer I will be in the sea every day if I possibly can. I don't feel I've been in unless I'm totally immersed, swimming underwater with my hair trailing behind me (my hairdresser despairs). I'm always frustrated that, with my work being seasonal, I have little leisure time in the summer, then when winter comes along with no work and all the time in the world available, the beach is a lot less attractive and the sea, well, cold. I usually give up around December or January and must be unusual in that, going by the number of astonished comments on my posted photos of Boxing and New Year's Day swims. But year-round swimming is a thing, and a fairly popular one at that. Riccos beach in Geroskipou receives an early morning rush of local swimmers every day of the year. The lifeguards are long gone, the bars closed, the sunloungers packed away, and the area becomes home to dog walkers and some very hardy bathers.
The health benefits are widely recognised now: improved circulation; stimulated vagal nerve (fight or flight response) which reduces anxiety and stress and helps protect the vital organs, and strengthened immune system. Recent studies have also shown cold water swimming to be beneficial for menopause symptoms. All these benefits on top of those gained by being outside in fresh air and the physical exercise of swimming!
Kathleen Ruddy, local playwright and entrepreneur has swum daily, year round in Cyprus and Scotland for decades, and describes the rush of endorphins: "It's like being in the snow wearing a big fur coat – you know it's cold but you just don't feel it. You feel so great you just want to shout about it. I've met all kinds of creatures – octopi, stingrays and turtles. There's a great sense of community where I swim – we all look out for each other. An octogenarian always seems to keep a look out for everyone. When I'm out alone, he waits until I'm safely out of the water then he salutes me and off he goes."
Kathleen's advice matched what I've frequently heard from cold swimmers: you need to keep it up, daily. Swimming from summer onwards means you smoothly transition down the ten degrees the sea fluctuates through the year. Skip a few days and the cold shock on returning will spoil everything. I hardly managed a sea swim at all in October (ironically due to working on a boat every day and at a wedding beside the sea every night) and then a shoulder injury prevented swimming at all, so I'll have to wait til next winter now to test this theory, but the glowing faces and exhilarant cries of 'Wow, that felt good!" that can be heard from the waves on crisp January mornings are certainly inspirational.
One can still enjoy and benefit from the winter beaches without getting wet. Fresh air is equally important in winter, especially if one is cooped up in a centrally heated office or home for hours on end each day, with never an open window. The sunlight, such as it is, is great for the skin, for making vitamin D, and for the mood and soul. Dogs are allowed on beaches once the sunbeds are packed away for the season, and a run on the beach is good for canines and humans alike. There are no sunbathers to trip over and no stereos booming. There's much less choice of eateries and bars, but plenty of space for a picnic or a flask of your chosen brew. The days are getting longer now and although the temperature still drops once the sun goes down, we can enjoy the sunset before heading home to warmth and shelter. This is the Cyprus that the tourists don't see – enjoy the privilege, and make the most of this special time.
Jezebel hosts a Quiz Evening every Wednesday 7.30pm at Kamares Club near Tala.
www.groovejetmedia.com