If you read our articles regularly you could be forgiven for thinking we are not exactly a "Normal" Running Club, and you would be dead right because we do so many more activities besides running.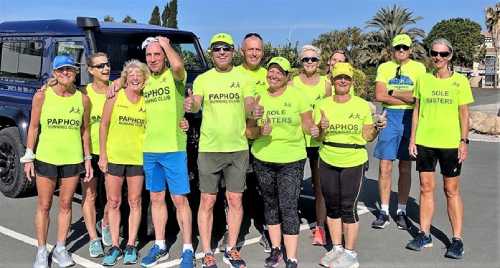 All our members are completely Normal however – no really – for example Lee Stevens very recently raised yet another €1,000 for cancer support by running the length of Cyprus from Ayia Napa to Paphos Harbour, now what could be more normal than that I ask you?
Other "Normal" Members
Lee is just one example of how Normal we all are of course, like 76 year old Chris Coleman who a few weeks ago ran 100 miles in 30 hours, or Ian Partridge whom you may recall rode his bike up and down the Pegeia by-pass until he had ridden the height of Everest, setting a National record in the process.
Whilst we are on the subject of being Normal, surely every self-respecting running club has a triple national swimming champion amongst its members – in the UK as well as Cyprus by the way – like our very own Martin Hodge?
And what about our Dutch International cycling star Albert Nuy, or Lisa Gwynne who wins every Paphos Park Run she enters on age standard, just like Janice Eastman who also does that, except she does it in bike races!
Then there are other ladies like our formidable trail runner Sarah O'Toole, GB International Triathlete Liz Dunlop, marathon runner Chetna Grimshaw (Surely everyone runs at least 8 marathons a year?)
The list of Normal members goes on and I haven't even mentioned our off-road triathlon World Champion contender Nic Sutherland, prolific race winners Dave Dowd or Ioannis Aresti, nor the guy who aged 66 rode over 600kms in the UK National Championship 24 hour cycle race.
Aspirations
Those already mentioned are of course some of our exceptional athletes, but most of us, like most of you I am sure, regard exercise simply as a healthy and very sociable way to enjoy life.
So, what are your aspirations for 2023? What could you achieve with the right guidance encouragement and support? If you want to find out – get in touch!
Paphos Park Run 5th February
Due to construction work around the harbour and coastal path, our 5km Park Runs will continue at 8am on the first Sunday in every month from near the harbour, but in the direction of Riccos Beach instead of Lighthouse Beach.
Paphos 5km Park-Run 8am Sunday 5th February
Course Records: Men 16m:32s Women 17m:24s
Enter FREE via the Paphos Running Club Website
REGISTER ONCE FOR THE WHOLE SERIES
BRING YOUR BAR-CODE EVERY TIME
Contacts:
See our Facebook Page, or better still, come along 08:00 any Saturday to Coral Bay Bus Terminus for an all-abilities activity, followed by breakfast in the Frog and Toad.
www.paphosrunningclub.org
Facebook: Paphos Running Club
President Sue Cordrey +357-9763-8375
Running Captain Allan Devereux +357-9998-3352
Walking Captain Truus Shannon +357-9676-3708