Over a decade ago event promoter Karen Kendall spotted a gap in the entertainment market in Cyprus. She developed her innovative concept of bringing tribute acts from the UK to the island for short tours. Over the years she has built an excellent reputation and a huge following of supporters. This month sees the first outdoor Kendall events for 2023, as she brings out the multi-instrument 4-piece rock band Blaze Of Glory. This will be the band's second Kendall tour; the first, last August, brought a tragic irony to their name.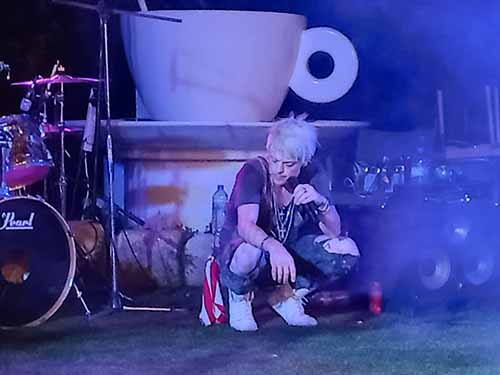 Typically, Karen brings an act out for a week, during which they'll play four or five shows in different venues across the island. Once the band arrives and the concerts begin, life is a whirlwind of ticket sales, setups, sound checks and concerts, plus looking after the musicians. Karen recalled to me the calm time before the storm, just a few days before Blaze of Glory flew in.
That peaceful August afternoon, Karen decided to take her time loading the sound and light equipment into her long-wheel-base Ford Transit ready for the first show. A tried and tested routine involved her reversing the van, with rear doors open, right up to her house's front door, whereupon she would place a ramp from the house floor to the van, and wheel the heaviest speakers in first. One woman loading a full sound and lighting rig – but she gives herself several hours and a relaxed pace. Bit by bit, her store room emptied and the transit filled. At one point she stopped for a break, had dinner, caught up on her latest emails and booking enquiries, sold the last few seats for the first night, and enjoyed watching the sunset from her Peigia garden.
Once the last crate was loaded, Karen got in the cab, started the engine and drove a few feet forward, and hopped out to close and lock the back doors. She put the ramp away in the storeroom and returned to finish parking the van up for the night, ready for the tour.
At this point, she could smell burning, and felt hotter than the balmy August night had been minutes earlier. Looking down, she realised the driver's seat was on fire.
Switching the engine off and jumping out, Karen frantically tried to stem the flames, but the fire was swiftly gaining hold. She dialled 112 and was told to call the local fire brigade, but the operator agreed to put her through. By this point the van had itself become a blaze of glory. Worried the house or trees could also catch fire any second, Karen withdrew to the back garden for her own safety and waited for the fire brigade.
Minutes later, her neighbour came racing across the field between their houses, yelling that her van was rolling. To her horror, the van was indeed blazing away and rolling towards the road. Fortunately it trundled into a side wall and stopped: a journey that thankfully took it further from the house and Karen's car that she feared would catch light.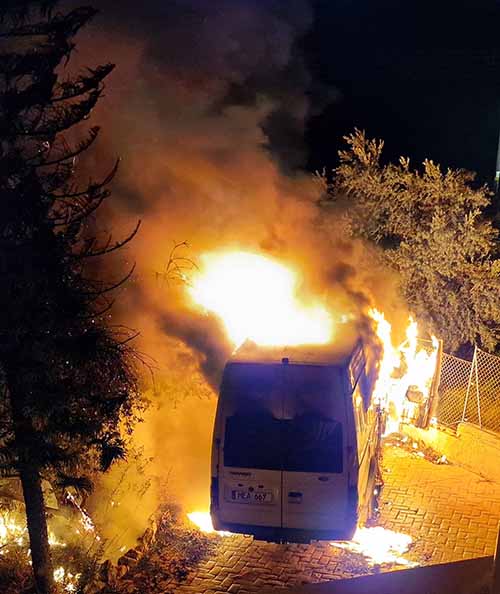 Fire brigade were soon joined by police, who taped up the scene and remained in their car outside until 7.30am when the insurance assessors arrived. A sleepless night for Karen, who agonised for hours over how to put on a four-night sell-out live concert with no equipment. Twelve speakers, sound console, lighting rigs, poles, stands, miles and miles of cabling had all gone up in flames. But the show must go on, and this was an attitude shared by many of Karen's colleagues in the industry, and she says she soon found out who her true friends were. Equipment began to appear from various sources, begged, borrowed – and not stolen – as friends and colleagues pulled together to save the day. The tour went ahead to appreciative audiences.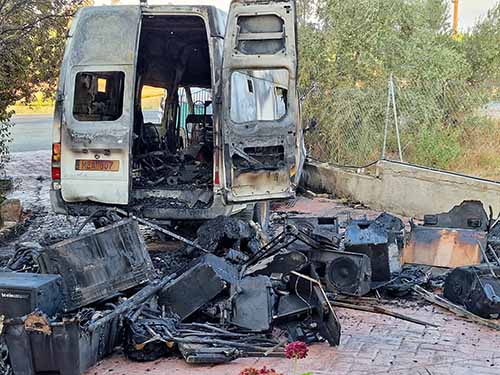 The van itself had been third party only insured, but Status insurance came through with contents cover, and although still considerably out of pocket, Karen has now replaced all the lost equipment. " I enjoy what I do too much to give it up, meeting lovely people –both artists and public. The cause of the fire is still unknown, despite a lengthy investigation, and probably always will be. My van and equipment have been destroyed by flames, but my passion is still on fire! After rebuilding I am stronger than ever and aim to continue to bring incredible acts to Cyprus".
See page 23 of this month's Pals Magazine or www.kendallevents.com for details of this month's Blaze of Glory tour.
Jezebel & friends present a Quiz at Kamares Club, Tala, Paphos every Wednesday 7.30pm.
www.groovejetmedia.com