23rd – 27th November
'Broadway via Hollywood'! Adam Lucas from Blaze of Glory and Clare Andress from Bootleg Abba team up for a sensational performance!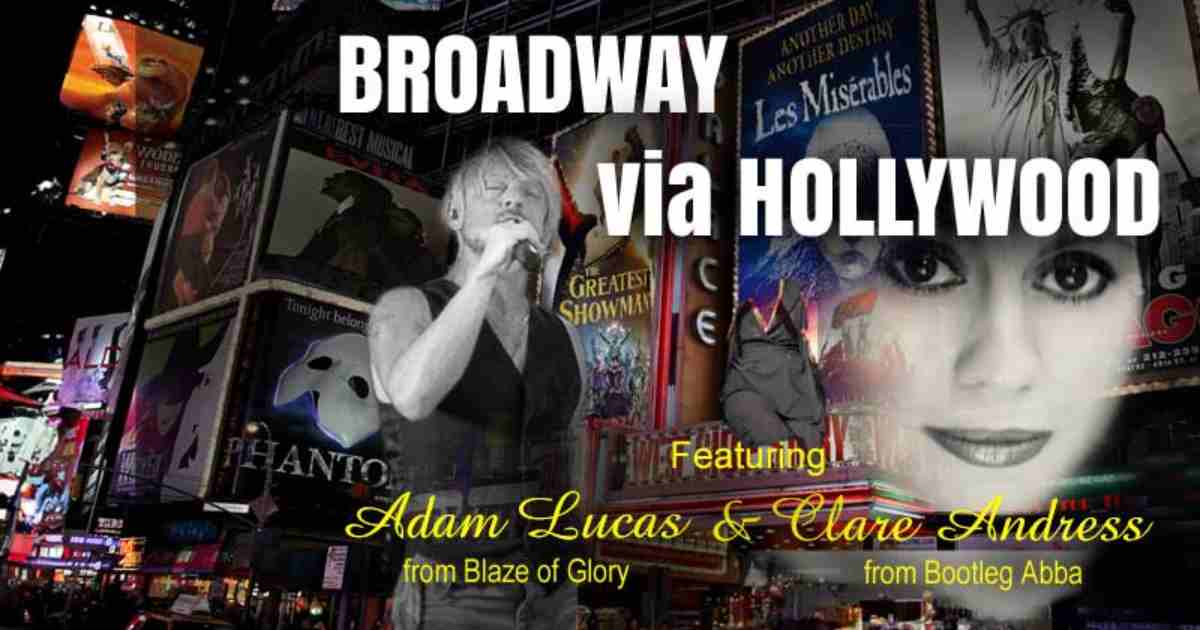 Prepare to be swept away on a musical journey like no other with "Broadway via Hollywood," a sensational celebration of the finest tunes from both the Broadway stage and the silver screen. This electrifying performance, masterfully crafted by the talented and critically acclaimed Adam Lucas from "Blaze Of Glory" and the sensational Clare Andress from " Bootleg ABBA," promises an unforgettable experience for music lovers of all ages.
"Broadway via Hollywood" brings together the best of both worlds, seamlessly blending the grandeur of Broadway musicals with the cinematic magic of Hollywood. The result? A night filled with pure enchantment and nostalgia.
With a repertoire that spans iconic musicals like "Phantom of the Opera" and "Les Misérables" to chart-toppers from "The Greatest Showman" and "Hairspray", this duo delivers each note with a passion that can only be matched by the original artists themselves. You'll find yourself transported to the heart of these stories, feeling every emotion as if you were sitting front row on Broadway.
But the magic doesn't stop there. "Broadway via Hollywood" also pays homage to legendary film soundtracks, taking you on a rollercoaster ride through time with hits from "Back to the Future," "James Bond," and the unforgettable classics of the '80s and Disney. Get ready to sing along to melodies that have become part of the fabric of pop culture.
Adam Lucas and Clare Andress's chemistry on stage is palpable, and their combined talent elevates each performance to a level of brilliance that is simply unmatched. Their voices will mesmerise you, their energy will captivate you, and their passion for the music will leave you wanting more.
Whether you're a die-hard fan of Broadway musicals or a film soundtrack enthusiast, "Broadway via Hollywood" is the show you've been waiting for. It's a mesmerising journey through the most beloved songs in entertainment history, brought to life by two extraordinary performers.
Don't miss the chance to witness this enchanting celebration of music from Broadway to Hollywood. Book your tickets now and get ready to be transported to a world of pure musical magic.
"Broadway via Hollywood" – Where Broadway meets Hollywood, and the magic of music knows no bounds!
Ampelones Hall in Peyia, Paphos
Thursday 23rd November
Doors Open: 6:30pm, Show Starts: 8:00pm
€22 Set menu available, paid separately on the night
Tickets available from Britania Kiosk in Peyia
Vatouthkia Restaurant in Koili, Tala
Friday 24th November.
Door Opens: 6:00pm, Show Starts: 8:00pm
€38 Includes 3 course buffet, tea/coffee
Tickets available from Vatouthkia Restaurant
The Vineleaf Tavern in Pissouri Bay, Pissouri
Saturday 25th November.
Doors open: 6:30pm, Show Starts: 8:00pm
€36 Includes 2 course buffet
Tickets available from The Vineleaf Tavern
Vasilikon Winery in Kathikas
Monday 27th November.
Doors open: 6:30pm, Show Starts: 8:00pm
€39 Includes 2 course buffet
Tickets available from Vasilikon Winery
All tickets can also be bought online from www.kendallevents.com, where you can find more exciting events coming your way. Call or text 00357 96818066 / 99171060 to reserve, or message us on Facebook: Kendall Events. Email: [email protected]