This summer I lost a friend. Not through bereavement, although I certainly feel bereft, but through some unknown minor disagreement that resulted in said friend deciding, crushingly, to simply cut all contact.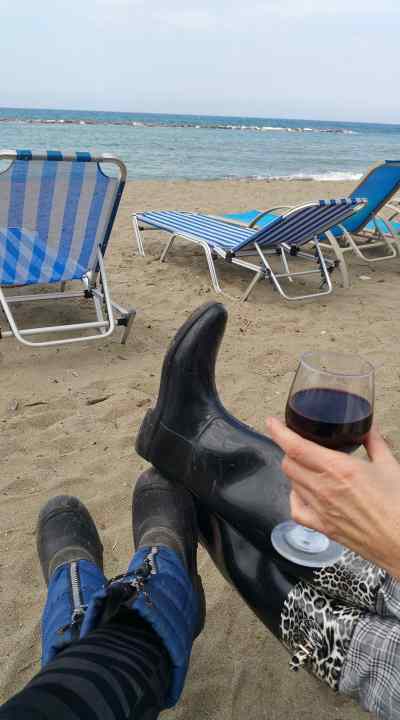 Filling the gap of a friendship that met at least weekly and was the basis of my social life has forced me to get out and about alone a bit more and explore the community and all it has to offer.
Friends are extremely important for expats, particularly single ones, who have moved away from home countries, families and colleagues. If retired, there are no new colleagues to meet, and life can be quite lonely for newcomers. Fortunately, the age-old advice for meeting new people and making friends works here too. There are many evening and daytime classes and activities one can join, endless charities and charity shops needing volunteers, and plenty of friendship/singles/companion groups especially for this purpose.
One such group meets every month on a Sunday at a different restaurant each time, calling itself, 'It's only Sunday Lunch' (99754078). I met many friends, with whom I'm still in touch now, 17 years ago at the Cyprus Cyngles Club. That is now defunct, but the Paphos Social Singles Group meets once a month in a Paphos restaurant and organises boat, cinema and concert trips, and even short holidays away ([email protected]) . Many groups are to be found on social media: Paphos Gossip Girls, Peiga Ladies….and the long-established institution that is the UKCA Club (www.ukca.com.cy) has its own premises (albeit shortly having to move). Other social clubs with their own premises exist on a slightly smaller scale, including the Phoenix Club (26272524) . Various motorcycle clubs exist around the island, some of which again have their own premises. Stage One Theatre group (www.stageonetheatre.com) is a great social group too, with club nights once a month in their own theatre. Paphos boasts a number of choirs, most of whom frequently advertise for new members. There are book clubs, a writers group, photography, classic car, line dancing and amateur radio clubs, and walking groups; most sports and interests are represented here if you look hard enough. For the children, as well as the incredible number of performing arts and dance centres we have now, there are Brownies, Guides, Scouts, and many sporting clubs.
Every Saturday morning Meraki Market Cafe in Xlorakas host a 'Blunchers' meeting for entrepreneurs and digital nomads (a group that by definition need to meet people) to get together and exchange ideas and contacts. (www.facebook.com/blunchers) and in a similar vein, the office-rental-cum-internet cafe Hygge Co-working in Paphos town organises yoga classes and social events for its mostly individual clientele – who otherwise might never get to hold a live conversation.
Many of the British social institutions are represented here: the Rotary Club branches cover the whole island (www.rotary-cyprus.org) and there is a very active Paphos Third Age society (www.paphos3rdage.org).
Quiz season is about to return, and this can be a great way to make new contacts – frequently a team will be short a member and welcome an extra brain to their group, and of course there is always something to talk about.
Now with COVID less dominant in our lives, restrictions on numbers of people in venues have been lifted, so let's look forward to an Autumn of buzzing bars, taverns and venues full of happy crowds and new faces to meet. We have Oktoberfest sat the Yurts on 1st October and Aphrodite Hills on 7th, 8th and 9th; the afore-mentioned Stage One Theatre presents the comedy 'Quartet' in Emba 1st, 6th 7th and 8th; and throughout the month we've tribute acts including to Neil Diamond, The Eagles and Rod Stewart flying out who can now play to full houses.