Autumn with its cooler weather has arrived, which is good news for all those runners training for various races that are coming up in the next couple of months. It's a lovely time of year to put on those running shoes and enjoy the lovely scenery we live in. Maybe also a good time to get fitter for the Christmas parties that we will all be enjoying next month!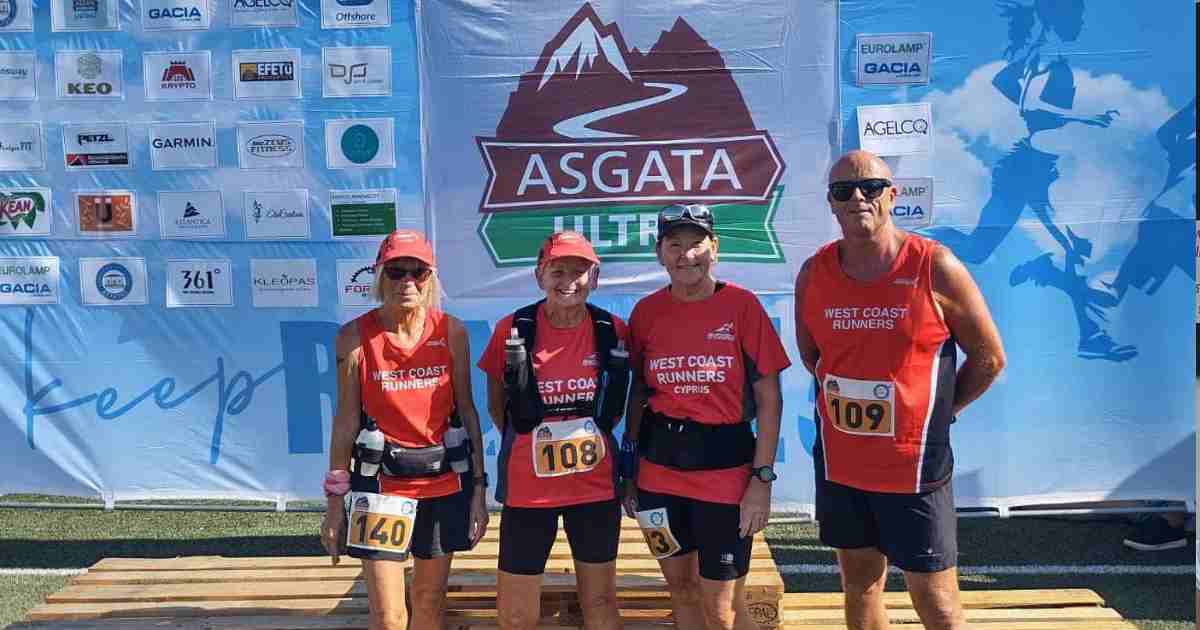 Asgata Ultra
This race took place on the 23rd of September and as promised in last month's edition we have a few words from the West Coast Runners that took part, namely Di Nash, Claire Rinkes, Christine Bell and Neil Bithell.
The race started at 4pm from the Asgata community football field and the searing temperature hit us as soon as we stepped out of the car! The route was a very challenging 16km mainly asphalt roads, gravel tracks and plenty of hills with spectacular scenery. The organization was excellent, very good route markings, plenty of water/food stations with additional water given out on route due to the heat. There were lots of refreshments & entertainment at the finish line. Di, Claire, Christine and Neil all enjoyed the race and look forward to taking part again next year, maybe with a few other club members. An extra well done to Neil who had just come back from virtually two-month layoff due to an injury.
Athens Marathon
October's weather remained hot and humid which made training difficult for the team but they kept to their training plan showing commitment and at times real courage. We must also mention Ruth Poole & Linda Hesketh who have trained alongside the Athens team.
Now though the training is drawing to a close for Claire Rinkes, Christine Bell, Di Nash, Viv Couldrey and Neil Bithell as the date for the Athens Marathon is only days away. There have been some injuries along the way but the team have worked hard and are well and truly ready to take part in this epic 40th anniversary marathon. Accompanied by their family as support crew, John Rinkes, Karen Bithell and Roy Bell, they will certainly have amazing time and hopefully be able to enjoy some of the sights of Athens. We will have a full race report and photos in the next edition. Good luck to you all.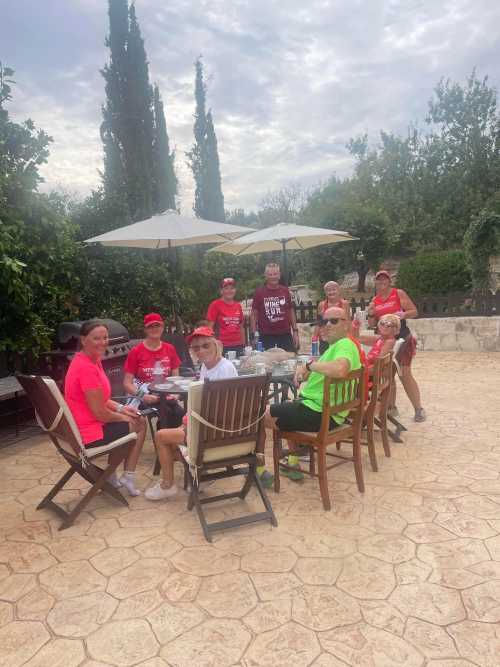 Sunday Club Runs
The Sunday club sessions have always been a favourite for many members due to the diversity of routes and distances. During the cooler months there will be more "off road" trail routes with starting points in many different villages around the area. Some of the recent runs have been around Episkopi village, Kouklia and Pano Arodes. These runs are suitable for all abilities as there will always be a "tail" runner to ensure that nobody gets lost. As you would expect at the end there will be breakfast, either at a local coffee shop or sometimes at the home of one of our members.
So, if you are new to running, returning to running or on holiday & you would like to join us at any of our sessions please take a look at our schedules which can be found at the top of our Facebook page or call Christine on 97757159 or Gerry on 99926291 for any further information.
West Coast Walkers
Don't forget we also have our walking group that meets every Monday morning. The walking group is increasingly popular and is open to anyone who enjoys walking, meeting like-minded individuals, experiencing walking along the coast and exploring in and around the Paphos area. We welcome all walkers whatever your ability, young and the not so young! There is something for everyone to enjoy. Please see the West Coast Walkers Facebook page for meeting points and start time.