February 2023 and life seemed its usual self for the time of year. Work in animal welfare was as always, bad and good at the same time in the usual unequal proportions. And then, all of a sudden, 14th of February came, the day when so many people celebrate love – Valentine's Day. And the memory hit us: since the 14th of February 2021, this was, is and always will be the day when Valentine-Bob came into our lives and changed us for good. How could we forget the survivor of all survivors, the kindest creature ever, the VERY Valentine-Bob!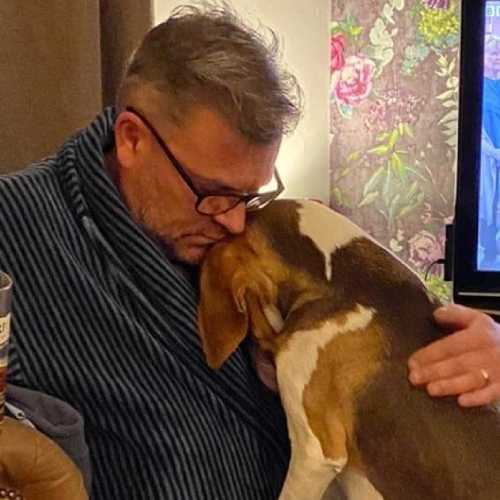 Two years ago on Valentine's Day he was found by a little girl in a field, shot in the eyes and with a head full of pellets. Only a puppy, he miraculously survived this most horrible of moments to be found by the little girl who asked her parents for help to save the dog.
He thus came to ARC on the Sunday of 14th of February 2021, blood coming out of every single inch on his tiny face. He was terrified and in simply unimaginable pain. He was crying tears of blood and the team was crying with him.
Valentine-Bob was blinded by the bullets. He has never seen the light of day since the 14th of February 2021 and he will never see it in his life. But with treatment and care he started the slow process of recovery. His wounds healed quite fast, it was his heart that needed healing the most.
And so, once he was fit enough, he travelled in April 2021 to join THE most perfect family there is. He was welcomed with open arms and even more open hearts, after his now-most favourite human in the world saw his story and said "I want Valentine-Bob to come home to us"…
Life is amazing now for Valentine-Bob. He is beyond loved, he is happy with his human and animal gang (a big one at that) and his terrible past is way behind him. The only downside? He can't see the loving faces around. But he can surely feel. Because our Valentine-Bob is the forever proof that one can live without eyes, but one can never live without a heart.
For information regarding any of ARC's programs and needs please call 26946461. For sponsorship please email Colleen at [email protected] and for any pet travel inquiry please email [email protected].