The cooler weather always triggers a flurry of intense activity across the board, whatever the sport and whatever the competition. This month has been no exception, with next month likely to be even busier!
Running:
Two of our amazing Sole Sisters, Sara Spittal and Chetna Grimshaw excelled themselves recently with Sara recording 4h:17m in the Berlin Marathon, whilst Chetna completed the gruelling 70km Asgata Ultra-marathon in 9h:16m.
At the other end of the scale, our "Couch-to-5kms" training programme for newcomers is well under way and spirits are high, undoubtedly inspired by Sara's and Chetna's achievements and the "Graduation" Carrot Cake Run on 4th December.
Further afield a contingent of 12 members "raided" Bulgaria for a long weekend to compete in the Sofia 10km and half-marathon events: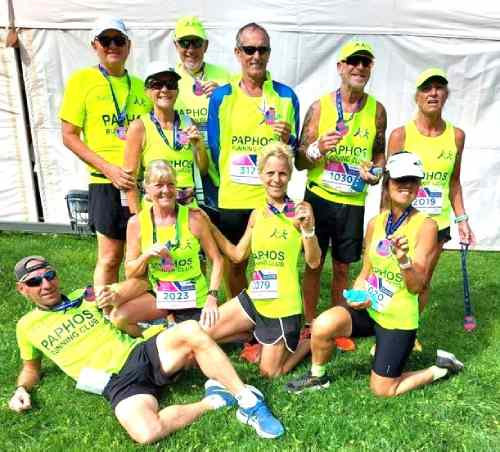 Biking:
Triathlons are the challenge for our cyclists this month with our monthly Triathlon Sessions again in full swing, preparing for the International Olympusman Half Ironman on 4th November, generally recognised as one of the toughest in the international calendar.
Sarah O'Toole has bravely chosen this as her debut half-ironman, which tells you all you need to know about her grit and determination! We are also entering mixed relay teams and as per the previous 4 years, we anticipate finishing on the podium!
Swimming:
We have some excellent swimmers in the club and whether the competition is local, national or international, we usually have someone on the top step of the podium. This month it was Monica Williams who won her over 50 age group in the Cyprus 3km Championship in Limassol, coming 3rd overall!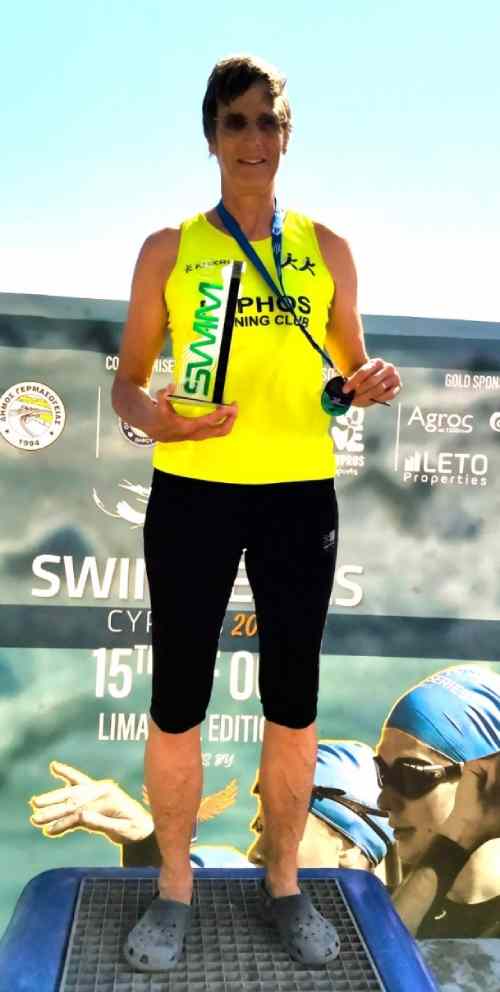 Hiking:
This section of the club is thriving with walks every week catering for those who want shorter easier routes as well as those preferring tougher longer routes, all followed by lunch in a convenient hostelry.
Recently, 19 of us went on a 4-day hiking trip to the North involving 3 walks and a boat trip, with some parasailing and retail therapy thrown in for good measure.

Paphos Park Run 1st October
The return to the original Coastal Path route proved very popular with the new smooth surface being a big improvement on the old crazy-paving path. There were several personal bests amongst the 78 finishers, with PRC winning 7 age groups and our indomitable Lisa Gwynne winning the age-graded competition outright.
Don't miss our next Paphos Park Run 8am 5th November
NOW BACK AT THE ORIGINAL COASTAL PATH ROUTE
Enter FREE via the Paphos Running Club Website
REGISTER ONCE FOR THE WHOLE SERIES
BRING YOUR BAR-CODE EVERY TIME
CONTACTS:
If you would like to be involved in any of our wide-ranging activities – Running-Biking-Swimming-Hiking just get in touch. For more information see our Facebook Page or better still, come along 08:00 any Saturday to Coral Bay Bus Terminus for an all-abilities activity, followed by breakfast in the Frog and Toad.
www.paphosrunningclub.org
Facebook: Paphos Running Club
President Sue Cordrey +357-9763-8375
Running Captain Allan Devereux +357-9998-3352
Walking Captain Truus Shannon +357-9676-3708