So much has happened this month it is difficult to choose any particular highlight between all our recent successes in road races and trail races, so instead here is an achievement which has nothing at all to do with racing, yet one of which we are all extremely proud.
One of our longstanding members, 72 year old Jennifer Clarke, has never won a race in her life. She has, however, beaten cancer. Twice.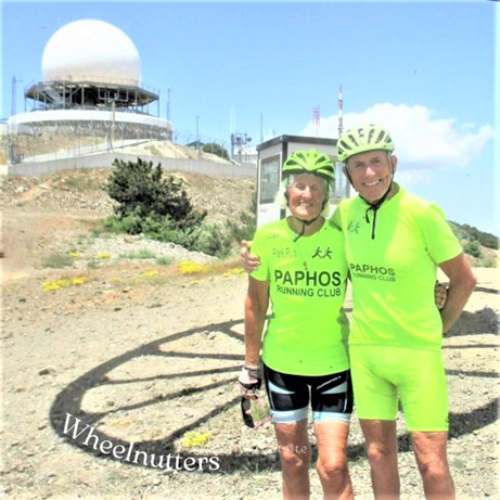 Only 6 weeks of intensive care saved her having her arm amputated, but even so she was severely disabled and was forced to retire at age 46.
Gradually she fought her way back and Jenny now canoes, runs, swims, rides a bike and even models clothes. Until recently she said the hardest thing she had ever done was running a marathon. That all changed a couple of weeks ago when she rode her bicycle from Paphos to the very top of Mount Olympus.
This is a very tough ride however young and fit you are, so for Jenny it was a very emotional moment struggling up the last very steep few hundred metres.
This kind of achievement means more to us in Paphos Running Club than winning however many trophies in races, which is why we are closely linked with the Breast of Friends Cancer Charity here in Cyprus.
The Paphos Round 28th May
We still like winning lots of trophies in races of course, so what better opportunity to do that but in this great annual event organised by the municipality. We always support this race and as usual we did very well for ourselves by winning twelve trophies!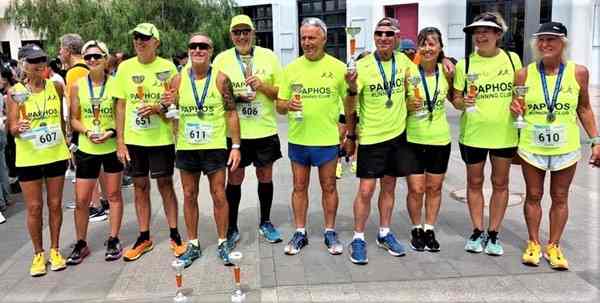 Sole Sisters
Sole Sisters continues to evolve and the new "SSquad" of four ladies has been formed to cope with the ever-increasing size of the group as it goes from strength to strength and new members join.
We regularly socialise of course, but on Mondays, Wednesdays and Fridays we run, walk or jog to keep fit, always finishing the sessions off with a coffee – Oh! – and we sometimes eat cake! (Always!)

The new leadership team are busy putting together new routes, speed training sessions and designated back markers who know the routes to ensure no runners, walkers or newcomers are left behind.
CONTACTS:
If you would like to be involved in any of our wide range of activities – Running-Biking-Swimming-Hiking just get in touch. For more information see our Facebook Page or better still, come along 07:30 any Saturday to Coral Bay Bus Terminus for an all-abilities activity, followed by breakfast in the Frog and Toad.
www.paphosrunningclub.org
Facebook: Paphos Running Club
President Sue Cordrey +357-9763-8375
Running Captain Allan Devereux +357-9998-3352
Walking Captain Truus Shannon +357-9676-3708