Breast of Friends Charity Run/ Walk 15th October
October is Worldwide breast cancer awareness month, so with 120 participants, including some still undergoing treatment for the disease, we raised approximately €4000.
Here we see our "pretty in pink" Running Captain, usually a shy retiring chap who avoids the limelight, getting into the spirit of the day in a completely out of character manner. (Not).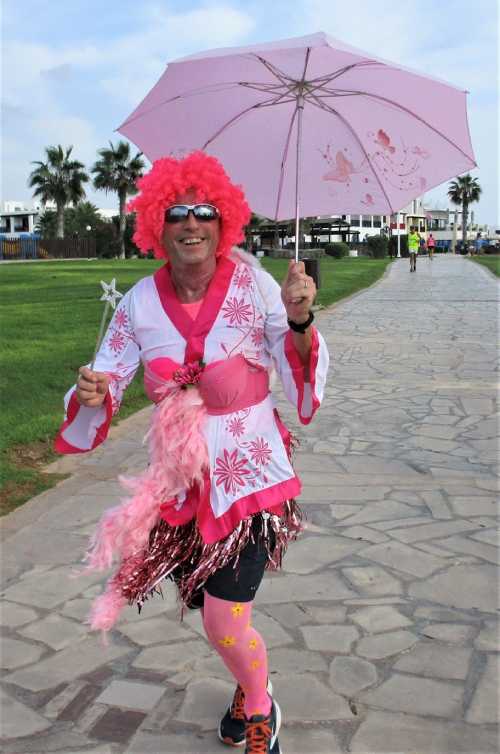 Xterra World Championships 8th October
Molveno Italy was the venue for the off-road World Triathlon Championships with 800 athletes representing 55 countries, including PRC's Nic Sutherland.
Heavy rain rendered the course a mud bath so this tougher-than-usual trial of skill, strength and endurance saw over 100 competitors drop out.
No podium for Nic this time, because on crashing he sustained a deep gash in his leg, yet still finished even though his leg was numb.
Couch to 5km Fitness Programme
Almost 5 years to the day since our first C25k programme, the turnout of 15, mainly ladies, was very impressive.
The nerves were there at the beginning, but when everyone realised there was no pressure and it didn't matter even if you were the slowest in the group, everyone visibly relaxed and is already showing great determination to improve.
Triathlon Training 8th October
This well-attended session saw Duncan Cooper and Carla Poole drop everyone else, and Duncan leading Carla home by a few seconds.
Duncan broke his back in April and Carla is always a formidable opponent, so this was a remarkable achievement!
Next session is 12th November and will be a handicap in which everybody chases everybody else and anyone of any ability can win!
Paphos Park Run 1st October
Over 70 runners and walkers started and 6 front runners lead the way to the turn, but as usual with a tightly packed group, some over-extended whilst others ran their own race.
By the finish, Adam Hindmarch had eased out a 20 second lead over the familiar form of Alekandr Berezhnoy, finishing in 18m:41s with Vadim Mishenev a handful of seconds later in 19m:10s, then Rob Peters finished just one second ahead of Ioannis Aresti in 19m:40s.
PRC won four age groups with Ben Green, Steve Jobson, Alan Talbot and Lisa Gwynne, who again was outright winner of the overall age competition, despite claiming lack of training!
Don't miss our Park Runs for runners and walkers, first Sunday every month, along the scenic coastal path starting near the Fort in Paphos harbour.
Paphos 5km Park-Run 8am Sunday 6th November
Course Records: Men 16m:32s Women 17m:24s
Enter FREE via the Paphos Running Club Website
REGISTER ONCE FOR THE WHOLE SERIES
BRING YOUR BAR-CODE EVERY TIME
Contacts:
See our Facebook Page, or better still, come along 08:00 any Saturday to Coral Bay Bus Terminus for an all-abilities activity, followed by breakfast in the Frog and Toad.
www.paphosrunningclub.org
Facebook: Paphos Running Club
President Sue Cordrey +357-9763-8375
Running Captain Allan Devereux +357-9998-3352
Walking Captain Truus Shannon +357-9676-3708