A friend and I have resolved to walk every Sunday while we can, and she has taken seriously to selecting from the many recommended walks Paphos has to offer. Two weeks ago she suggested one starting and finishing at the Ayios Neofytos monastery in Tala – close to home and boasting beautiful views. Years ago I had a photoshoot by the famous collection of aerials on Mount Melissovounos for my CD cover, and I liked the idea of revisiting the site and maybe getting some new pics.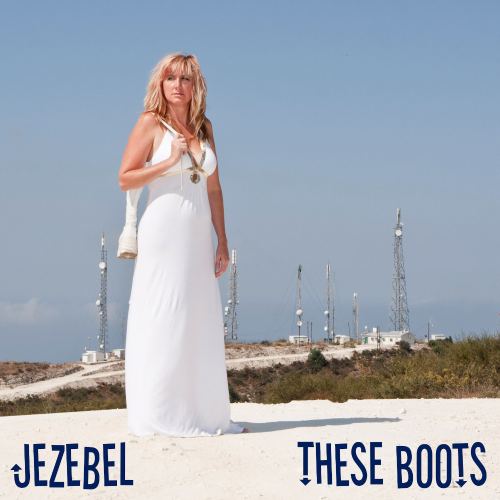 The online description of the walk stated it was 6.5 kilometres long and would take a couple of hours. Perfect: we were setting off 11.30am so that would give me time to get home, lunch, and get to a scheduled meeting at 5pm. It was an utterly gorgeous day. Suffering from a shoulder injury I'm currently limited as to what I can put on myself, so I was sporting a huge loose T shirt and tracksuit bottoms, and my hiking boots simply because they happened to match the outfit. Lynne suggested a jacket, so I tied one round my waist (or rather Lynne did for me. Topped off with a sunhat and my sling, and a bag with some bottles of water. The sling proved useful for tucking the printed directions in.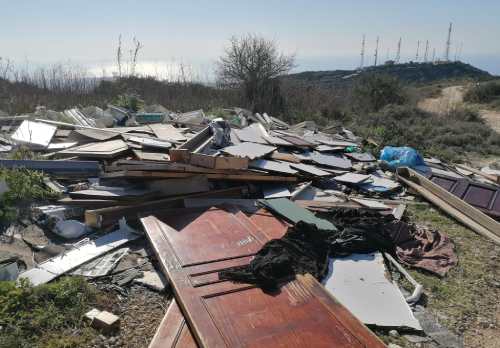 We were warned there was a bit of rubbish along the route, but weren't prepared for the level of dumping – way up in the hills were mountains of used air-conditioning units among a huge array of junk – quite a considerable trek to get a truckload up there, one wonders why they didn't simply use the official dumping sites. One such heap had a new church being built alongside, an extraordinary contrast.
But the scenery and weather were beautiful and peaceful, with dramatic views down across valleys to the monastery and the coast. Lynne produced a picnic which we sat and enjoyed, much to the entertainment of a local chap out picking artichokes.
The walk took us through Koili village where we came across a double headed teddy bear tied to a fence. We didn't like to dwell on this, so kept walking, following the directions which were clear, with helpful photographs. The route led us out the other side of Koili and back onto the hill trail, but this time, to our joy, downhill all the way. Until the directions just stopped making sense, referring to a junction of 4 tracks. We found a junction of 3 tracks, and kept going straight, thinking the 4 track junction would appear, but after 15 minutes reached a dead end. Back to the junction, we took the left path, which headed back uphill and petered out to nothing. Back to the junction again, we took the only remaining path, despite a DEAD END sign and a chain across the path. From this point onwards I was only too aware that any car coming to rescue us would be unable to come down the track.
We came across a half built structure surrounded by a concrete wall that was not mentioned in the directions, but did have a path running around it, so we scrambled down, clinging to the wall at times, into overgrown, hostile undergrowth on a track that was getting increasingly narrower. Frustratingly we could see the busy Koili – Tala road, but an impossible ravine separated us from it.
By this point I'd texted my 5pm meeting to say that I might be late, but was starting to wonder whether I'd ever be there at all. We had about an hour of daylight left and the temperature was dropping. In darkness the area was treacherous, and despite the glorious sunshine earlier, this was January and I didn't fancy our chances sleeping on a mountainside. Our phones were both low on batteries and signal was weak. But then, no rescue vehicle could reach us where were we were (not that could I have described our location anyway). I didn't want to be the subject of a Cyprus Mail article on the helicopter rescue of two idiot expats. Our only choice was to head back up to the junction yet again, and retrace our steps back into the civilisation of Koili to phone for help.
Five hours after we set out, Lynne's aptly named friend Ms Rushforth visited Koili for the first time and picked us up, driving us back to the monastery – which felt like a considerable distance even in the car – and back to our waiting cars. One day when we can face it, we'll try the walk again from the opposite direction and see where we might have gone wrong – though I suspect the new building we scrabbled around has blocked the elusive 4th track.
At my physio session the next day for my shoulder, the therapist asked how I'd managed to get such sunburn on my shoulder in January. Nothing like a Cyprus mountain for catching a tan!
Jezebel hosts a Quiz Evening every Wednesday 7.30pm at Kamares Club near Tala.
www.groovejetmedia.com