This time of the year in the summer heat, we certainly don't need to spend hours in the kitchen, so here are some healthy, quick, and easy summer suppers! These Mediterranean-inspired light dishes are not only easy to prepare but are bursting with flavours. They promise to keep you satisfied and energized with the tastiest ingredients summer has to offer.
Cumin-Spiced Halloumi with Corn and Tomato Slaw
Ingredients
1 lime or green lemon, zested and juiced
1 tsp rapeseed oil
1 tsp fresh thyme leaves
¼ tsp turmeric
¼ tsp cumin seeds
1 tbsp finely chopped coriander
1 garlic clove, finely grated
100g halloumi, thinly sliced
For the slaw
1 lime, zested and juiced
3 tbsp Greek yogurt
3 tbsp finely chopped coriander
1 red chilli, deseeded and chopped
160g corn, cut from 2 fresh cobs
1 red pepper, deseeded and chopped
100g fine green beans, blanched, trimmed, and halved
200g cherry tomatoes, halved
1 red onion, halved and finely sliced
320g white cabbage, finely sliced
Directions
Mix the lime zest and juice with the oil, thyme, turmeric, cumin, coriander, and garlic together in a bowl. Add the halloumi and carefully turn it until coated – take care as it breaks easily.
To make the slaw, mix the lime juice and zest, yogurt, coriander, and chilli together, then stir in the corn, red pepper, beans, tomatoes, onion, and cabbage.
Heat a large non-stick frying pan or griddle pan and fry the cheese in batches for 1 min each side. Serve the slaw on plates with the halloumi slices on top.
Summer Egg Salad with Basil and Peas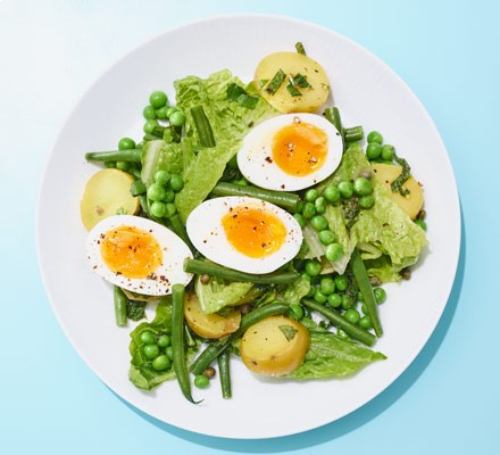 Ingredients
150g new potatoes, thickly sliced
160g French beans, trimmed
160g frozen peas
3 eggs
160g romaine lettuce, roughly torn into piece
For the dressing
1 tbsp extra virgin olive oil
2 tsp cider vinegar
½ tsp English mustard powder
2 tbsp chopped mint
3 tbsp chopped basil
1 garlic clove, finely grated
1 tbsp caperss
Directions
Cook the potatoes in a pan of simmering water for 5 mins. Add the beans and cook 5 mins more, then tip in the peas and cook for 2 mins until all the vegetables are just tender. Meanwhile, boil the eggs in another pan for 8 mins. Drain and run under cold water, then carefully shell, and halve.
Mix all the dressing ingredients together in a large bowl with a good grinding of black pepper, crushing the herbs and capers with the back of a spoon to intensify their flavours.
Mix the warm vegetables into the dressing to coat, then add the lettuce and toss everything together. Pile onto plates, top with the eggs and grind over some black pepper to serve.
Simple roasted veggies with Dukkah sprinkle
Quite simply roast a pan of chopped Mediterranean veggies, your choice, drizzle with olive oil, sprinkle with garlic granules and season with salt and pepper. When cooked sprinkle with Spice&Easy's Dukkah and serve with crusty bread.
For more recipes or info visit www.spiceandeasycyprus.com
or call us on +357 99104622