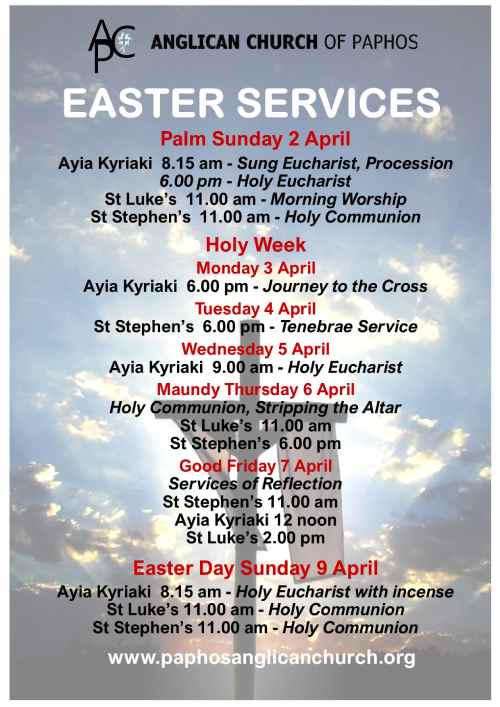 The beginning of April heralds the start of Holy Week – the most sacred period in the Christian calendar.
Starting on Sunday 2nd, Palm Sunday reminds us of Jesus entering Jerusalem and being greeted by the people waving palm branches. For Christians, it is a reminder of the welcoming of Jesus into our hearts and of our willingness to follow Him.
Services on Palm Sunday include readings of the Passsion, that is, the story of the suffering and crucifixion of Jesus of Nazareth. Jesus' death is seen by Christians as salvation and as a reminder of how prophets are often killed for when they stand for justice and peace.
Maunday Thursday is a day when Christians commemorate the Last Supper of Jesus. In some traditions there is the washing of the feet of various members of the congregation to recall the gesture of Christ at the last Supper when he washed the feet of his disciples. This is a sign of the need to do more to love one another and to serve all people, especially the poor.
Good Friday is a solemn day on which Christians recall the death of Jesus on the cross and its promise of hope and new life. In some traditions a wooden cross is set up and people spend time meditating before it. Other people make the Stations of the Cross a devotion that recalls the journey of Jesus on the Via Dolorosa in Jerusalem to Calvary where he was crucified.
Easter Sunday is the greatest feast in the Christian year. While society puts a major emphasis on Christmas, no other day is traditionally as sacred for the Christian community as Easter. This is the day Christians commemorate the resurrection of Christ. In some traditions, the services begin the night before with the lighting of a new fire and the blessing of a large Easter candle. Water is blessed and many are baptised. But, for all Christians, this is a day to renew one's faith.
An Easter Message
As a Christian, the story that holds my attention this month is obviously the Crucifixion and resurrection. It's an extremely sorrowful and joyful story all at the same time. Sorrowful that Jesus was crucified but joyful that he rose again. He came to show us what God's love meant and to die for our sins so that we could be saved. I have to admit that even on the Good Friday service when everyone is a bit dour I have a great big smile inside, which I find hard to keep in. I love the fact that we have a God that loves us so much that He came to us in the form of Jesus to guide us back to Him. Personally, I am always on a high over this time because I know what this means for me. I know the Lord and what he done for me, and can do for you. I much prefer Easter to Christmas from a Christian point of view. Christ died for us, let's do something for Him this Easter – let's go to one of the many services on offer around Paphos and thank Him. God Bless.
Rev. Ken Waters, Parish Priest
Easter Week Services
Palm Sunday 2 April
Ayia Kyriaki 8.15 am – Sung Eucharist, Procession
6.00 pm – Holy Eucharist
St Luke's 11.00 am – Morning Worship
St Stephen's 11.00 am – Holy Communion
Holy Week
Monday 3 April
Ayia Kyriaki 6.00 pm – The way of the Cross
Tuesday 4 April
St Stephen's 6.00 pm – Tenebrae Service
Wednesday 5 April
Ayia Kyriaki 9.00 am – Holy Eucharist
Maundy Thursday 6 April
Holy Communion, Stripping the Altar
St Luke's 11.00 am
St Stephen's 6.00 pm
Good Friday 7 April
Services of Reflection
St Stephen's 11.00 am
Ayia Kyriaki 12 noon
St Luke's 2.00 pm
Easter Day Sunday 9 April
Ayia Kyriaki 8.15 am – Sung Eucharist with incense
St Luke's 11.00 am – Holy Communion
St Stephen's 11.00 am – Holy Communion
On a lighter note, each year our members prepare, by hand, 2,000 palm crosses which, together with those made by members of the other Anglican Churches within Cyprus Diocese, are sent to the UK for distribution to the congregations within the Exeter Diocese.
And finally, a reminder that our Annual Spring Fayre takes place on Saturday 22 April at St Stephen's Church, Tala. Stalls include jewellery, cards, craft items, homemade cakes and preservatives, bric-a-brac and a raffle. Light refreshments will be available. Entrance is free!
For more information about church services, locations and our other activities please visit: www.paphosanglcanchurch.org