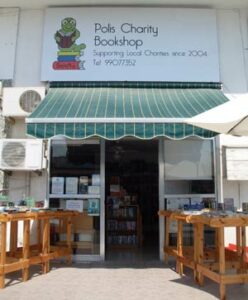 Eight years ago, by chance, I stumbled into Polis Charitable Foundation's Bookshop and discovered a little gem. With the opportunity to browse freely in the cool aircon (a welcome relief to the blistering heat outside) I soon realised this was no ordinary second hand bookshop. No dust, no fusty smells, no chaotic rag tag of books. Instead, orderly shelves filled to bursting with up to date titles, popular authors, classics, nonfiction and children's books. Inobtrusive friendly staff, stood back whilst the urgent business of selecting the perfect 'read' was accomplished.
The Polis charity bookshop, ran purely by volunteers has been operating in Polis for an amazing nineteen years. Now led by the formidable Di Sylvester and Jacqui Hollingsworth, all profits go to support local good causes. So far, an incredible €248,000 has been raised. Grateful recipients include The Friend's Hospice, Archangel Michael Hospice, Cancer Patients' Support, Paphos Kidney Association, the local Polis Solidarity, to name but a few.
Di says "Our colleague Sandra Westwood founded the bookshop in 2000 initially as a market stall, sadly Sandra passed away in 2008, but with our great team of volunteers and the support of our local community, we are able to carry on her good work."
Jacqui adds 'We are incredibly proud of our little bookshop. If you are passing, call in, have a browse and a chat. Our friendly team are always happy to provide a warm welcome and cheerful service.'
In addition to the bookshop, Di and Jacqui host a quiz night every alternate Thursday at the Turtle Tavern, Argaka. All proceeds go to the Polis Charitable Foundation. Gary and Anne kindly provide a 'Quiz Menu' for the special price of 6 Euro/person. It is a fun night for keen quizzers and non-quizzers alike.
You might not be surprised to learn that I applied to become a bookshop volunteer on that day eight years ago.
'Books are a uniquely portable magic' said that prolific author Stephen King. Sadly, many bookshops and libraries have not survived the advent of Amazon, Kindle ebooks etc. Our community bookshop thrives only because of your valued patronage.
Your continued support is very much appreciated by Di, Jacqui and the bookshop team.