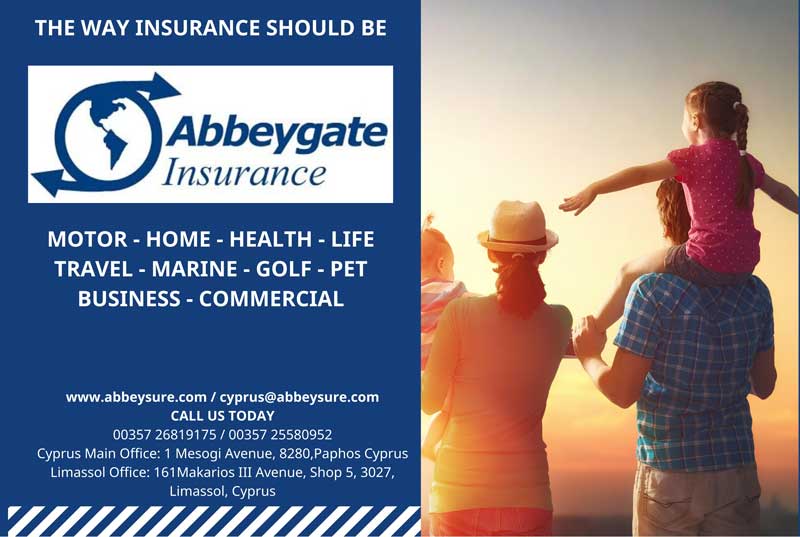 Abbeygate Insurance Brokers Ltd are by far the largest expat insurance broker in Cyprus. During the last 14 years offering the best prices and service Abbeygate have become established as the expats' insurer of choice.
A fully registered and regulated firm in Cyprus means that Abbeygate are Brexit proof, so will be able to continue to trade irrespective of what Brexit brings. Our aim is to get the best policy for you, in terms of Premium, Quality and Service.
Abbeygate offer cover for:
Motor Car
Home
Health
Travel
Marine/Boat
Business
Community
Life
Golf
Abbeygate enjoy an enviable reputation for Quality Service. This forms an excellent platform for sustained growth. As the largest and fastest growing Brokerage in Cyprus we are showing ourselves to offer a Competitive product with Quality service. Abbeygate pass on unique benefits negotiated with local and international Insurers to our clients.
Our past success has enabled us to expand, we proudly announce the opening of our new office in Limassol. Makariou III Avenue, 161, Shops 7&8, Agios Georgios, Limassol 3027
Contact us and we will be happy to provide more information and present tailor-made solutions to best suit your needs.
Find out more at: abbeysure.com
Call – Limassol 25580952 or Paphos 26819175