Any New Runners Out There Or Have You Recently Moved To Cyprus?
It can be difficult to start something new or find like-minded people to run with, especially in a new area, but look no further, WEST COAST RUNNERS will always give you a warm welcome. We are a small friendly club, all committed to enjoy running, we like to run anywhere from city streets to coastal paths to scenic mountain trails. Whatever your age or ability you will always find someone to run with and encourage you on your running journey. So, why don't you come and join us on our weekly runs. You cannot miss us; look out for the RED tops. We look forward to meeting you. See our Website and Facebook page for the latest monthly schedule.
November Events
Radison Blue Half Marathon – 20th November, Neil, Jo and Pauline travelled to Larnaca to compete in the Half Marathon. The weather conditions were great and it was an enjoyable course, starting on the sea front, down towards the port, back through the old town and out to the salt lakes, nice and flat so good times were possible. The race was very well organised from start to finish and well marshalled throughout with a good atmosphere at the finish line. Neil especially did very well finishing in a good time. Overall it was an enjoyable event and we are looking forward to next year.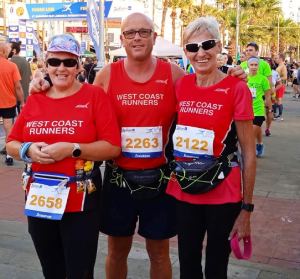 Leptos Cyprus International 4-Day Challenge, 24th–27th November, Angela, Claire, and Di, took part in this "challenging" event which was held over 4 days. Day 1 – Coral Beach, 6k Time Trial, Day 2 – 11k Hill Run, starting and finishing at Pano Arodes, Day 3 – Multiterrain Half Marathon, starting and finishing in the centre of Neo Chorio Village and finally Day 4 – 10k Paphos City run, starting and finishing at the Medieval Fort. All three runners tackled the different routes extremely well and certainly earned their medals at the end of the challenge.
We are pleased to report that Di took first place in her age group in all 4 events, also kudos to Suzie competing in her first 10k race, and to our Chair, Christine for running with Suzie on the 10k, also thank you for the fantastic support from our great running club.
Monthly Handicap
The monthly Handicap has been a great success, mainly due to Alan Lovejoy for the organisation and management of this event and the enthusiasm of club members taking part. The final Handicap run of the year has taken place and members are eagerly awaiting the results! We are looking forward to the next series commencing in January 2023.
Christmas Social Event
It's not all about running, we do like to socialise as well and are looking forward to the clubs' Christmas Lunch on the 17th December. At the Christmas Social, for the first time, the club will be presenting 4 trophies to members for the following categories, Handicap Winner, Most Improved Runner, Club Member of the Year and Runners' Runner Award. It is intended that these awards will be presented annually at this event.
West Coast Walkers
Don't forget we also have our walking group that meets on Monday mornings, exploring Paphos and the surrounding areas. You are all welcome to join us – please see the West Coast Walkers Facebook page for meeting places.
If you want to make 2023 the year you get fit, come and join us at WEST COAST RUNNERS. Whether your goal is to run 5k, your first marathon, or simply run for fun, we can help you to achieve it.
Find us on Facebook or website:
www.westcoastrunnerscyprus.org
You can also call Christine on 97757159 or Gerry on 99926291.
Happy running everyone and Best Wishes for 2023!