Another month has flown by but thankfully Spring has arrived so we can all get out and about to enjoy our running and walking in the sunshine. Evenings are drawing out now so we are seeing some lovely sunsets on our late afternoon/evening runs. March was a busy month for the club, the new schedule included some new routes making the most of this beautiful island of Cyprus.
MITSERO MINE RUN – Half Marathon, 12k and 5.5k Races.
Neil Bithell and Claire Rinkes ran in the 12k race and Christine Bell competed in the 5.5k race. It was the first time that they had ran in these races and they thoroughly enjoyed the experience. The races were well organised, marshalled and marked. Both races are undulating and tough in places, but they were rewarded with spectacular views and the weather was just right. They felt it was a great experience and would certainly encourage others to do it next year as they are both very good trails to run on. Claire and Neil had respectable times for the 12k race and Christine was first in age group in the 5.5k race.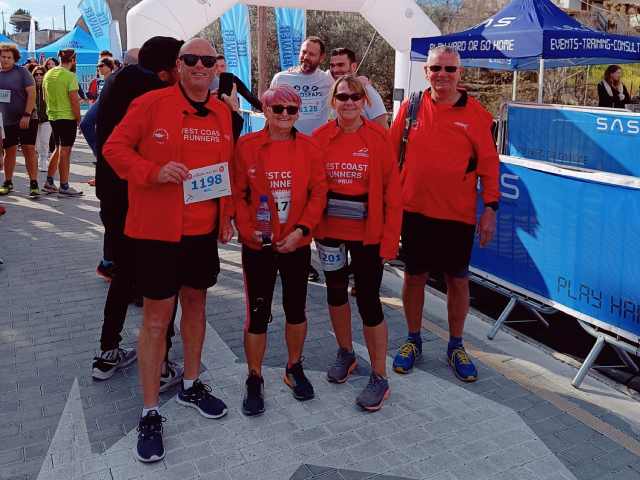 LOGICOM PAPHOS MARATHON RACES
Of course we cannot forget the 25th Anniversary of the Logicom Cyprus Marathon event which took place on March 12th. Many WCR members and partners volunteered with packing and distribution of goody bags and manning three water stations on the marathon route. It was a lovely day, perfect running conditions and as usual was a very well organised and supported event. Claire Rinkes ran brilliantly in the marathon and Linda Hesketh and Gerry Rock did well in the 10km. Unfortunately, three members who had registered could not take part due to various reasons, there is always next year when we will have quite a team taking part. We finished the day with a celebratory dinner at Hickory Restaurant which was enjoyed by everyone.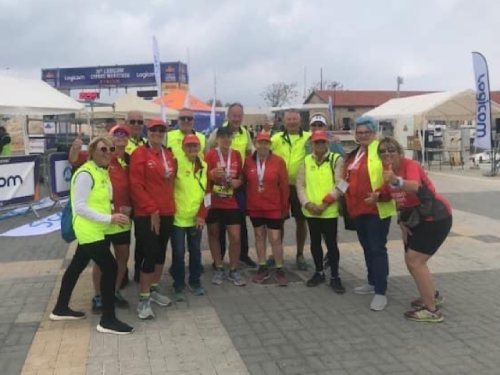 New Runner's Course, Couch to 5K
After a break last year, we started our new 10-week New Runner's Course, Couch to 5K on 13th March. Good luck to all the new/returning runners who have signed up for the course.
Monthly Handicap
Three monthly handicap events have now taken place, great turnout for each one. Going to be interesting to see the results at the end of the year.
Club Relay and Family BBQ
Preparation are underway for our Club relay and BBQ which will take place in May. A great fun family event which was so successful last year we are planning at least 2 more this year. Details and photos will be in next month's edition.
If you would like to join us at any of our sessions please take a look at our schedules which can be found at the top of our Facebook page or call Christine on 97757159 or Gerry on 99926291 for any further information.
Happy Running Everyone!
West Coast Walkers
Don't forget we also have our walking group that meets every Monday morning, exploring Paphos & surrounding areas. You are all welcome to join us – please see the West Coast Walkers Facebook page for meeting points.