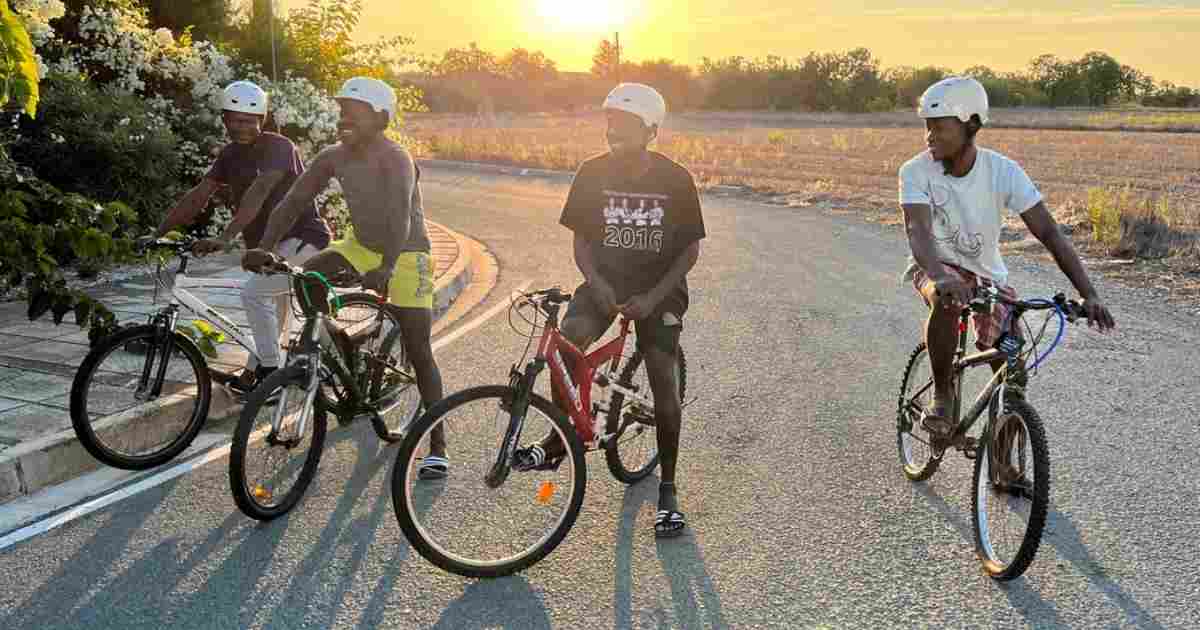 Our Bicycle Project – towards the end of 2022, we, at the Anglican Church of Paphos, started to raise funds and received 11 donated bikes to give to Asylum Seekers at St George's Complex Tremithousa and in Polis/Latchi. When Revd Anne Futcher heard about this, in her role in the Diocese as Community Liaison, she applied for, and received, a grant from The Episcopal Church of America of €5,510 to purchase 35 refurbished bikes including kit, lights, bell, pump, puncture repair kit, lock, helmet and HiViz jacket.
The church went into partnership with The Learning Refuge in Paphos and, as part of the arrangement, we provided some basic bike maintenance, training and road safety instruction.
Now, this three-month Bike Project has come to its end. We had a few more bikes still to give out but this should have been completed by the end of October. In total, under the scheme, we have been able to give out 38 bikes, due to donations for refreshments and no charge admin work, which meant we could divert the entire grant funding towards additional bikes. The bike supplier donated an extra bike and offered to carry out any major repairs or problems with the bikes, free of charge.
Thanks to everyone for their support for this project, you have really helped with getting people mobile and they can get around for appointments, interviews and to and from work. (Photograph shows four of the happy bike recipients)
Our annual Pet Blessing service held on Wednesday 4 October in the grounds of Ayia Kyriaki, Kato Paphos attracted a diverse collection of dogs ranging from large to small. All much-loved animals, they received their blessings in a well behaved and controlled manner. Let's look forward to even more people attending with their pets next year. (See photo)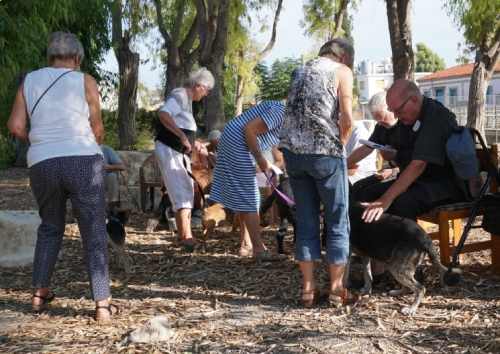 On Remembrance Sunday 12 November, an 'Act of Remembrance' will be included during our usual morning services at all three churches. However, to incorporate the 'two minutes silence' the start times of the services on this day are at St Luke's at 10.50am and St Stephen's at 10.45am. In the evening, a dedicated 'Service of Remembrance' will be held at Ayia Kyriaki, Kato Paphos at 6.00pm. Everyone is welcome.
Looking ahead, on Sunday 3 December we will be holding our annual Advent Carol Service at Ayia Kyriaki starting at 6.00pm. This service marks the start of the Christmas period and is an ideal occasion for family and friends to attend.
Regular Church Service Times
Ayia Kyriaki, Kato Paphos
Sundays – Sung Eucharist at 8.15 am
Holy Eucharist at 6.00 pm (1st Sunday of the month)
Wednesdays – Said Eucharist at 9.00 am
St Luke's, Prodromi
Sundays – 1st and 3rd – Morning Worship at 11.00 am
2nd and 4th – Holy Communion at 11.00 am
St Stephen's, Tala
Sundays – 1st and 3rd – Holy Communion at 11.00 am
2nd and 4th – Morning Worship at 11.00 am
For more information about church services, locations and our other Parish and community activities please visit:
www.paphosanglcanchurch.org