Looking back at September, we all experienced the sad loss of Her Majesty Queen Elizabeth II. Whatever your feelings are about the Royal family, you have to admire her dedication to duty, her service to her country and love for her subjects. The outpouring of emotion shown by the vast numbers who attended the lying-in ceremonies and lined the streets at her funeral, was testament to her life of good works and caring and the affection people hold in their hearts for her. May she rest in peace.
Our Service of Commemoration for Her Majesty, held at Ayia Kyriaki on Sunday 18 September, was well attended by our three congregations, members of the public and the British Legion. Also, on Sunday 25 September our annual services of Harvest Thanksgiving were held which were well attended and enjoyable occasions.
Looking forward to October, our Songs of Praise in the Park, cancelled in respect for Her Majesty's passing, has been reinstated and will now be held on Saturday 1 October at Ayio Andronikos Park, Polis starting at 5.30pm. Everyone is welcome. Further details and directions can be found at www.paphosanglicanchurch.org
Tuesday 4 October sees our annual outdoor Service of Blessing for Pets which will be held in the grounds of Ayia Kyriaki (by St Paul's Pillar) Kato Paphos. Everyone is welcome to bring their pets along to this fun occasion.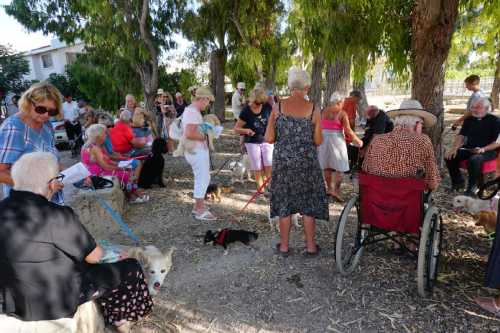 Special services have been arranged to celebrate the Patronal Festivals at St Luke's, Prodromi and St Stephen's, Tala on Sunday 16 October. These services are always an uplifting occasion as they are dedicated to life and work of the two saints – St Luke and St Stephen.
Our Autumn Walk for charity is being held on Thursday 27 October. Three circular walks are available in varying distances – 20, 12 and 7 Kms – all starting at Sea Caves near Coral Bay. Why not get sponsored and raise money for your charity? You will be very welcome. Full details of the event – registration, sponsorship, location and route maps – are available from our website www.paphosanglicanchurch.org
Our 'bikes to get to work' campaign to provide transport for working refugees is still running. So far, six bikes have been donated and refurbished and two more are promised. If you can support this project by donating a bike, which can be restored or even making a financial contribution, please email our Parish Priest, Revd. Ken Waters on [email protected] Any help will be greatly appreciated by the recipients who are working to pay their way in the community.
Next month, November, we shall start promoting our many Advent and Christmas activities, events and services in which everyone is welcome to participate. Further information about our church can be found on www.paphosanglicanchurch.org or on our Facebook page Anglican Church of Paphos. If you or your friends and relatives are considering getting married in Paphos why not check out our wedding website www.yourcypruswedding.org you may be surprised at what we can offer on this special occasion!