Distant views on Lemona walk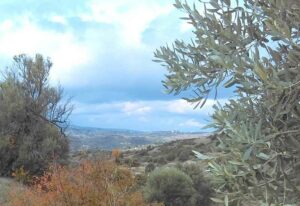 The Walk:  Is circular, starting and finishing at Tsangarides Winery, Lemona Village. At just under 10kms/6¼miles long, it should be completed in around 3 hours.  Good boots recommended and poles if used. We would describe it as moderately strenuous. The ascent/descent is around 386m and is a mixture of tracks. The first 45minutes are a steady ascent to a ridge where we should enjoy stunning scenery, across the valley below with distant views of Armagetti, Pentalia and Statos Villages. The next hour is meandering along the ridge before we descend into a valley, with a steady ramble back up to the Winery.
Directions: If travelling from Polis/Peyia direction, take the B7 Highway down through Stroumpi village and at the bottom turn left onto the E703 signposted for Polemi and Psathi. On reaching Polemi take right hand turning F719 signed for Letymbou. Follow signs to and through Letymbou village, continue on until reaching right hand turning F636 signed for Lemona. Drive down and though the village looking carefully for the Tsangarides Winery signpost (it is not a very big sign, so try not to miss it). Park next to a cream stone wall, adjacent to the Winery, the lane is called Pikrovysis.
If travelling from the Paphos/Tala direction, take the B7 Highway up to Tsada and take the right hand turning onto the E702 signposted for Kallepia/Letymbou. Follow this road until reaching Letymbou village then follow directions as above.
After parking, facing the Winery, the walk begins along Agia Varvaras lane, just to the left, which ascends quite sharply, reaching a junction around 5 minutes later. Take the second left option and continue for around 15 minutes. Upon reaching a T- Junction, turn right. Follow this winding track until it forks – take the left option. Approximately 100m along, take a left turn and follow this steep, mainly concreted track as it winds upwards until a T-Junction appears. Turn right here and continue ahead, ignoring any right hand options, then turn right, just before reaching a rusty chainmail fence (2.65kms/50 mins).
Proceed along as it continues to rise, on a mostly mud track, for reference there is a rusting yellow box van, without chassis, in the field on the right-hand side. Soon, a deep gorge appears on your left as you meander along. Continue, still rising, to the highest point of the walk, almost 400m above sea level. When the next fork appears, continue up (not down) following the ridge line. The next section is a stony descent, take care here. After a couple of minutes a T-Junction appears. Turn left, onto a short concreted section, which curves upwards and to the right, taking you along a narrow ridge. The Villages of Statos, Pentalia and Amargeti can be seen across the valley. The views are worth all the effort.
We now start our descent. Staying on this main track, passing many fields of newly-trimmed Vines, we continue along to a communications mast, which can be seen ahead (4.75kms/1hr 30mins). Keep on this track, ignoring any right hand options until reaching a row of rusting oil drums on the right, at T- junction. Turn left. Continue downwards for a few minutes, taking the first right hand turning, which veers sharply back to the right (5.7kms/2hrs). Continue along this circuitous track for around 15 minutes before reaching a T-Junction. Turn right to start our route back towards the Winery.
A few minutes later a crossroad appears, carry straight on, ignoring both left and right options. We can see the Village of Lemona straight ahead. Note the crystal Gypsum formations on the left and right passing a wooden gate to a smallholding and some Evergreen containers on our left, look out for a small right hand turning, opposite a small section of stone wall and a tree stump (7.75kms/2hrs 30mins). This track winds along and eventually takes you back to the Winery, with just one fork, where you keep left, staying on the main track, passing behind the winery and re-joining Agia Varvaras Lane (9.5kms/3hrs).
It is worth noting that Lemona is devoid of dining options at this time, however, the Winery offers wine-tasting with nibbles and although does not have facilities to provide food, welcomes Visitors who wish to bring their own picnic, as long as a drink is purchased, and is a very pleasant venue for enjoying the peaceful area of Lemona. Alternatively, there are two good taverns in Letymbou Village, a few kilometres back the way you came.
By Paula Devlin© and Leo Kelly© members of the Phoenix Walking Group. Founded in 2003, its members organise weekly walks throughout the year in the area from Paphos to Polis and along the Akamas. We have an established sociable, friendly reputation so, if you would like to join us to explore Cyprus' wild and hidden landscapes, please contact leaders Pete and Sandy Sizmur on 99 675463 for more information.