Reading this title, you will probably think that considering Animal Rescue Cyprus is indeed the largest animal welfare organization on the island, 30 puppies is not that much. But in the grand scheme of things, it is way too much, as those 30 puppies are not the only animals coming in as rescues in one week, but a part of all the other rescues and of all the other cases presented over the course of the same week.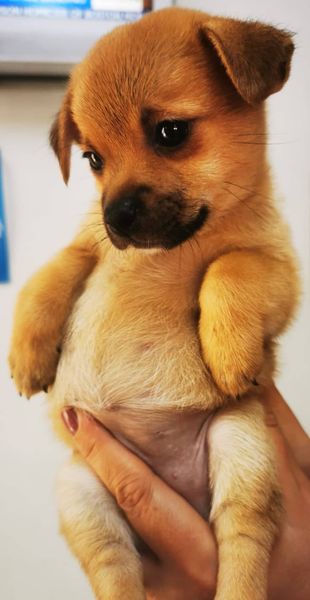 Above all, the 30 puppies seem to be like a leitmotiv for the absolutely huge problem that stray dogs represent in Cyprus. This year more than before, it seems, the plight of abandoned puppies and kittens is bigger than before. Much more abandonment, much more sickness, much more of it all. And with the usual numbers of rescues unrelentingly coming in, Animal Rescue Cyprus can easily – and very expensively – notice a probable increase in the general number of rescues.
The best, cheapest and healthiest answer to this massive issue is, of course, spaying and neutering on a mass scale. Apart from reducing to a minimum the chances of reproductive system-type cancers appearing in male and female dogs and prolonging life expectancy, spaying and neutering as many dogs as possible leads, obviously, to less unwanted litters.
With rescue centres and shelters full to the brim all over the island, taking on this many puppies in one week is a very expensive exercise for ARC. All these puppies have had to be administered internal and external parasite treatment, then once the 3 puppy mandatory vaccine scheme must be started and they need special puppy food in order to give them as much as possible of what they should have taken from the milk of the mothers they were taken away from way too early.
All of the above bears a tremendous cost on an already much stretched financial exercise, as the 30 puppies come as an "extra" to the more or less usual and steady number of rescues who come in every week. So when rescues like ARC are asking for your help in the future, think this – 30 puppies in one week + all the other rescues + medical interventions + food + emergencies + all the shelter animals to look after = please help!
For donations, please use the following bank details:
Bank: Hellenic Bank Branch 595, Danaes Avenue 8042 Paphos
Account name: Animal Rescue Cyprus
Account number: 595-01-G46696-01
Swift code: HEBACY2N
IBAN: CY65 0050 0595 0005 9501 G466 9601
Or donate via PayPal using the email address sponso[email protected] (please select "Friends & Family")
For information on the work of Animal Rescue Cyprus please call 26946461 any day of the week.