We are lucky in Cyprus. We live on a beautiful island with an abundance of quality hotels, good food and some great local acts providing live entertainment.
But how many of us take advantage of a weekend break away? I recently met David Wright, founder of hotelsbreaks4u. David specialises in combining the above three elements, to provide memorable weekend events. Several times a year David organises a weekend of entertainment, live music and fantastic food in a 2 night break. The most recent was the annual Turkey & Tinsel event held at the Atlantica Miramare Hotel in Limassol. We attended the Saturday night to find out more.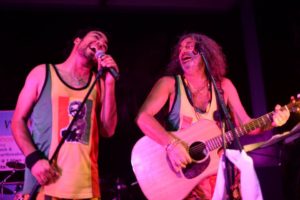 Held in the Mermaid Suite the surroundings were elegant and the atmosphere was friendly and vibrant. The evening buffet was a veritable Christmas Feast that did not disappoint. With a huge selection of dishes from meats, vegetables, soups, cheeses and desserts, guests were spoilt for choice and were tucking in heartily. After dinner live entertainment was provided by the fantastic Reggae Rockers who know how to work the room and fill the dance floor. An opportunity to burn off all those extra calories.
Mingling with the guests it was apparent that they were having a wonderful time. For many, these are weekends have become a regular fixture in their social diaries. There is a noticeable fondness for David and the hard work that he puts into planning these weekends is apparent for all to see. Throughout the evening David was on hand ensuring that everybody was enjoying themselves and that the evening ran smoothly.
What better way to gauge the success of an event than to hear from the guests themselves. Here are some snippets from emails received after the weekend:
"We would like to thank you so much for another fantastic weekend. The food, hotel and entertainment were excellent, plus seeing you again was quite nice also. Thank you for all the work you put into this."
"Thanks for another great weekend. Yes please for Valentines."
"Lovely weekend as usual. You are doing well seeing as you were retiring at the beginning of this year!!!
"Hi David just wish to say a big thank you to you for all the work you put into organising the T and T weekend. We all enjoyed ourselves and had a great time. We will definitely do it again."
"I had a great weekend and wanted to say thanks again for all your work in arranging the Turkey & Tinsel weekend, it's much appreciated."
To find out about upcoming events you can subscribe to the hoteldeals4u mailing list by clicking the following button:
The next event is the Valentines Weekend at the Atlantica Miramare on the 8th & 9th February.
hotelsbreaks4u are offering a great value weekend in this fine 4 Star Hotel, situated on the beach in Limassol. The weekend starts with Lunch on Friday afternoon and ends at mid-day on Sunday. On both evenings you can enjoy the special Buffet Dinner and private Bar in the Mermaid Suite, where there will be live entertainment from favourites J'Dee and LOOSE COVERS. Local drinks are included on Friday & Saturday.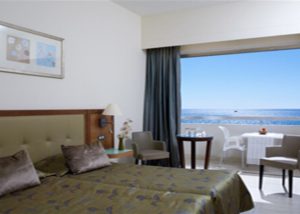 The en-suite rooms offer comfortable and well-presented amenities including TV, Telephone, Safe. Hair Dryer, Mini-Fridge & Wi-Fi. A well as a huge outdoor pool, Miramare offers a large indoor heated pool in the superb Health Club, which also has Gym, Sauna, & Steam Bath, all of which are included in the package.
For full details of the Valentine's Event and prices visit: www.hotelbreaks4u.com
Competition Time
We were so impressed by the last event that, courtesy of hotelbreaks4u, we are offering our readers the chance to win a one night stay at the upcoming Valentines weekend on Saturday 9th February at the Atlantic Miramare.