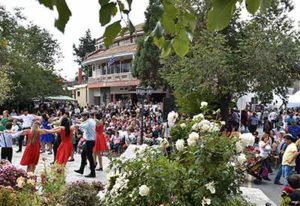 Through the foothills of the mountain ranges of Madari and Papoutsa  at the altitude of 1.350 meters, emerges the beautiful picturesque village, the biggest in fact mountainous village in Cyprus, Kyperounda, which every year  hosts the  Apple Festival ,one of the most vibrant and perfectly organized festivals in Cyprus.
The name of the village is possibly related to the plant named Cyperus rotundus (kyperos).   a weed that grows widely in the area and is used to feed animals. At historical documents was called "Chiperonda."
Kyperounda was possibly established during the Byzantine era.  During the Frank domination, "Chiperonda" was one of the villages that were considered royal property.  During the Ottoman era, the village was divided into two neighbourhoods by river Kourris. One of the neighbourhoods was built around the church of Saint Marina, while the other was built on the east of the Church dedicated to Virgin Mary.
The houses were built in such a way so as to "be able to internally communicate with one another" and their roofs were unified, creating an imaginary road. This type of architecture helped the inhabitants to escape in cases of Turkish invasions.
The picturesque village of Kyperounda still honours the traditional architecture. The "religious monuments" the main church of the village dedicated to Saint Marina, the church of Virgin Mary and Chrysosotiros and the chapel of the Holy Cross add to the beauty of the village. It is worth mentioning that the chapel is interesting for its "ecclesiastical sculpture" and its murals which go back to 1521. The chapel is included in the World Heritage catalogue conducted by UNESCO, and it has been turned into a museum.
The Apple Festival is held every second weekend in October, this year it will be on the 13th & 14th of October  and one of the biggest local Festival of Cyprus, which became an institution, both for the local community of Pitsilia and of Cyprus.
During the Apple Festival, visitors will have the opportunity to see and enjoy all Apple varieties  which grow in Cyprus,  experience the whole process of  Apple cultivation from ancient times until today, through the exhibition of tools and photographs but most important, savour all apple delicacies from the traditional Cypriot to the most innovative ones like Cider Zivania, Cider Beer, etc all locally  produced .
More than 30 stalls are filled, with everything that can be made with Apples and the hospitality and warmth of the inhabitants shows everywhere, with free tastings of almost all the goodies, free apple Palouzes for all the visitors and amazing smells of the delicacies which are cooked fresh in front of the customers.
All the  churches and museums are open during the Apple Festival which is an added value to your visit.
A rich folklore program enhances the Apple Festival, on both days with dancers and singers.
The Troodos Tourism Board offers  bus transportation to the venue.
Fees for bus transportation: €5 per person
For reservations
Tel:25323211/CTO Information Office Germasogeia (Lemesos)
Tel:22674264/CTO Information Office Laiki Geitonia (Lefkosia)
For more information Tel: 99352547
Discover Troodos on bus 64 for only €3
Please follow and like us: