In 2018, World Diabetes Day falls on Wednesday 14th November and the theme this year is FAMILY. The purpose of this one day is to raise awareness of a condition that millions of people all around the world live with every day.
Essentially, diabetes is about the body's ability (or lack of it) to produce the required amount of a hormone called insulin to control glucose levels in the blood. There are broadly two types of diabetes: Type 1 requires daily administration of artificial insulin by means of injection or insulin pump. Type 2 is more generally managed by a combination of dietary control and medication in the form of tablets.
1 in 2 people currently living with type 2 diabetes is undiagnosed.
Early diagnosis and treatment are key to prevent the complications of diabetes and achieve healthy outcomes. All families are potentially affected by diabetes and so awareness of the signs, symptoms and risk factors for all types of diabetes are vital to help detect it early.
Diabetes can be expensive for the individual and family. In many countries, the cost of insulin injections and daily monitoring alone can consume half of a family's average disposable income, and regular and affordable access to essential diabetes medicines are out of reach for too many. Improving access to affordable diabetes medicines and care is therefore urgent to avoid increased costs for the individual and family, which impacts on health outcomes.
Less than 1 in 4 family members have access to diabetes education programmes. Family support in diabetes care has been shown to have a substantial effect in improving health outcomes for people with diabetes. It is therefore important that ongoing diabetes self- management education and support be accessible to all people with diabetes and their families to reduce the emotional impact of the disease that can result in a negative quality of life.
In support of World Diabetes Day, Elizabeth Dooley, FSSCh, Dip. Pod. Med, MBChA, ­Podiatrist/Chiropodist is offering free foot examinationsin Paphos on
 WEDNESDAY 14th NOVEMBER 2018 18:00 – 20:00

 For further information, please telephone or email 26222986 / 99117003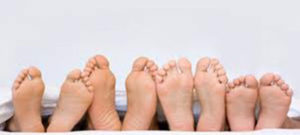 Please follow and like us: