Telling people my best friend's husband was playing Hamlet in a forthcoming amateur production, I was mostly met with sympathy: "You poor thing. I suppose you have to go, but take a book"  or "Find an excuse. It's the longest play ever written". And I admit I wasn't looking forward to the play itself, but knew that the  Ancient Kourion Amphitheatre at sunset, with floodlighting and hundreds of theatre goers, makes for a magical atmosphere whatever spectacle may be on offer. Many had never heard of the annual Shakespeare Curium production, such is the apparent lack of publicity in the Pafos area, but there has in fact been an annual Shakespeare play at the ancient site for decades.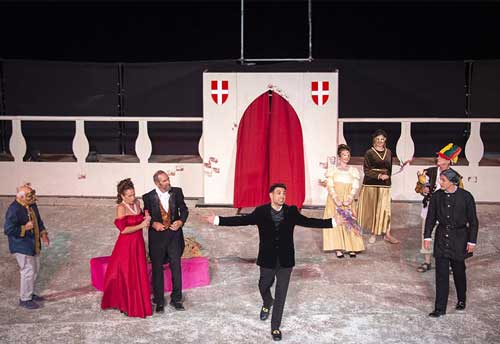 A clever initiative was the cushion hire stand provided by the Numb Bum Cushion Company for charity. Experienced amphitheatre-goers brought their own cushions, while some more selfish brought their own chairs, blocking aisles and views.
As the audience weaved their way through the throngs of volunteer stewards from various organisations and signs, down literally ruined stone steps into the amphitheatre, some may have noticed a brooding figure dressed in somewhat old fashioned and seasonably unsuitable black velvet and heavy shoes with large buckles.
I had never read or seen Hamlet and didn't know the storyline. This proved to be a blessing: I watched the play as Shakespeare intended, not knowing what would happen next. And found myself desperately wanting to know!
Shakespeare wrote in the language of his day, in iambic pentameters, frequently dismissed today as gobbledygook. Sadly many are put off watching the plays for fear of not understanding what's happening. I've found it takes a little while to 'click in' and grasp the lingo, but after a few minutes the brain retunes and it's possible to follow. Having watched  the delightful BBC series Upstart Crow, a tongue-in-cheek sitcom about the Bard, which uses a spoof of the language where ladies bear  'boobingtons' and gentlemen wear 'piffling pants', Hamlet didn't seem quite so alien.
A stark, unchanging set greeted us on arrival and was utterly sufficient. With no curtain to raise, the show simply began when the players appeared. It soon became clear we were witnessing some kind of family celebration, but then the velvet clad gent walked forward onto the stage and immediately we all knew that he was not happy. 'He's a bit angry' joked someone behind me, but it was far more than that. This guy was the definition of brooding. Dark, deep felt pain and anger exuded from his very being – and he'd not yet uttered a word.
Oh, but words did he utter. About one thousand lines of them, covering resentful fury, despair, violence, feigned madness, at times leaning toward genuine madness; comedy, even camp comedy executed with a masterly strength. He was word-perfect, but the dialogue was only half of the performance – the audience were utterly spellbound by his facial expressions and body language. We were truly watching Prince Hamlet.
Yet I know Andy Philippou well, and the description above is about as far from my friend's husband as it could be. The mark of a true actor. And he wasn't alone. The cast were without exception highly watchable. Graham Thomas as Hamlet's evil uncle/stepfather King Claudius was a convincing family head at first appearance, but revealed a Darth Vader quality later on. Liz Pearce – Hamlet's mother Gertrude – never fails in whatever role she plays, and Shakespeare suits her admirably.
The crowd was awestruck throughout, the flowery language took hold to the point where we all laughed at Polonious' whose pompous speeches caused Gertrude to beg "More matter with less art".
And thus, as brevity is the soul of wit, I'll say just: www.shakespeareatcurium.com.
Jezebel presents Jukebox Bingo at Carpe Diem Mesogi on Friday 16th August, and a Mamma Mia themed evening at Akis Geroskipou on 1st September. www.groovejetmedia.com