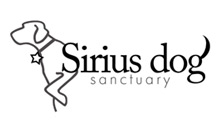 On 25th May 2017 Lee Carter, Michael John Cope and Jim McGowan will attempt to cycle the 2400 km journey from Barcelona to Athens within 28 days. An average of 100 kms a day including a couple of rest days. The aim of the ride is to raise money for some very good causes. Lee has chosen to raise as much money as possible for the Sirius Dog Sanctuary here in Limassol. Michael will be raising funds for the Douglas MacMillan Hospice in Stoke – on – Trent, and Jim will be raising funds for children with special needs.
We decided to catch up with Lee in Limassol as he prepares for this epic adventure to find out a little bit more about what the trip will entail.
100kms a day for 4 weeks is pretty tough going, for those of us who haven't cycled this route can you tell us a little bit about the journey?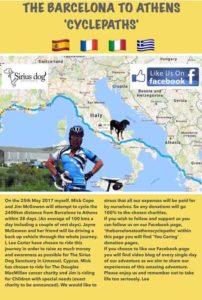 The starting point will be La Sagrada Familia Cathedral in Barcelona, Spain and the finishing point will be The Acropolis in Athens, Greece. The route will consist of very interesting places including Barcelona, Girona, Montpellier, Nice, Cannes, Monaco, Genoa, Pisa, Rome, Naples, Pompeii, Sorrento, Brindisi, Athens and much more. The terrain is mainly roads and I will be doing the ride on a self modified road bike. The first two days in Spain will be fairly hilly and then a few flat days until we reach Nice, France. From there we are expecting it to fairly hilly for around five days until we reach Pisa, Italy. It should then be mainly flat to Brindisi, where we will then take a ferry crossing to Patras, Greece. The first day in Greece should be fairly straight forward but the second day ( the last day of the challenge ) is a bit tricky to plan as around 40 kms outside of The Acropolis (the finishing point) has big major roads designed to take heavy traffic. We are planning to cycle slightly south of Athens, including the very small island of Salamina to reach the center of Athens by bicycle.
Weather extremes can have an impact on any cycling trip, what conditions are you anticipating?
We have chosen the end of May into June in the hope that we get pleasant weather conditions with daytime temperatures of around 23c to 28c . Though I've heard there can be heavy rains in the south of France at this time. We have a back up vehicle which will be driven by Jayne and her friend John who, along with Mick Cope and the Jim McGowen, the other two riders will travel from Stoke on Trent to meet me in Barcelona on 23rd May. There won't be enough room in the vehicle for us all to sleep in at night, therefore Mick and myself will be sleeping in one-man tents. Though we may choose to sleep in a hotel on some occasions.
This is obviously a very physical challenge. How many calories a day will you burn?
How many calories ? Haha, I don't know that one. Let's just say we will be eating plenty of pizzas in Italy to replace them !!
How many hours a day do you anticipate being in the saddle?
We are planning to be on the road for 8am every morning and we reckon about five hours in the saddle a day plus stops for food, sight seeing and video blogs etc.
What is the furthest that you have cycled prior to this challenge?
I once cycled from Akamas to Cape Greco in two days, 110kms in the first day and 128 kms the second day. This was again to raise awareness and food for Sirius Dog Sanctuary.
This is a big commitment; Why is it so important to complete this challenge? What will the benefits be to Sirius?
I work as a Funeral Director here in Cyprus and I will be taking about five weeks out, unpaid This for us is a personal challenge and the chance of a lifetime trip. Therefore we will be paying all our expenses including, flights, petrol (for the back up vehicle), food, and all the rest of it. This means that 100% of any donations will go directly to the charities. My aim is to raise as much money and awareness as possible for the Sirius Dog Sanctuary in Limassol and hopefully to raise awareness internationally of the animal neglect and abuse here in Cyprus. I'm hoping that the main source of doing this is through the Facebook page I have set up thebarcelonatoathenscyclepaths
Of which will consist of donation pages news and daily vlogs for people to follow and hopefully be entertained  during our adventure.

Please enjoy us and remember not to take life too seriously!!

Please follow and like us: