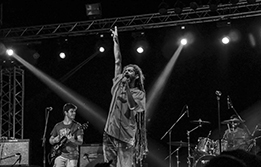 Reggae Sunjam, the biggest Reggae festival in Cyprus is back, hosting international and local acts, including live bands and DJ sets.
The Festival moves to a new location and brings you a massive line-up, with one of the most important bands of the Greek Reggae scene and top acts from Germany, Austria, the UK, Greece and Cyprus! They will keep you dancing to Reggae, Roots, Dub, Steppers and Dancehall tunes two days long!
The venue, Eleuthkia Park, is located very close to Paphos airport, easily accessible from all cities, offering the best surrounding for the weekend! Beautiful gardens, a pool, a playground for the kids, shady areas and of course a huge dancefloor will make this years Reggae Sunjam Festival an unforgettable experience!
Visitors will have the option to camp at the site for free with all the necessary facilities at hand.
You can join different activities such as a flea market with handicrafts, yoga sessions and a drumming circle. Food and drinks will be available at the venue during the whole Festival, including vegetarian and vegan options).
The entrance is 15 euros for a two days ticket and 10 euros for a one day ticket.
Tickets will be available at the door.
For further information call: 70007102 or send an e-mail: reggaesunjam@gmail.com
Facebook: Reggae Sunjam Cyprus | Youtube Channel: Reggae Sunjam