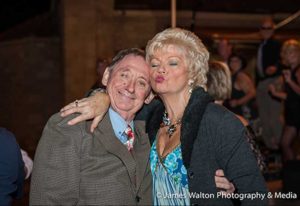 Now & again you meet people in your life who stamp wonderful everlasting memories that your cherish. One such individual stamped his memories on a whole choir, Paphos Zingers.
Eddie O'Daly was very much loved by our choir & we were privileged to have enjoyed 6 years of fun with him at our concerts until his sad passing back in May this year, after he battled with strength & dignity to beat cancer.
Being a Zinger isn't just about singing, our lovely group raise much needed funds for Cancer Patients Support Group and support events for other charities. it's about being part of & loving our community.
Eddie and his lovely wife Maxine, were ardent supporters of Zingers, attending 90% of our performances & we hold great memories of him.
He & Maxine worked very closely with us as non Zingers, promoting our gigs, introducing us to the wonderful volunteers of CPSG, even bucket rattling and selling raffle tickets at our events. Our relationship was so close that they were invited as guests to our private Zinger Christmas party.
We wrote an eulogy at Eddies funeral which was greatly received by family & friends when read out.
All the Zingers agree that our last memory of Eddie was not one of a poorly man battling this terrible disease but the gig that he danced with and partied with us 6 months before his passing.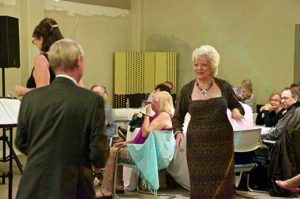 This gig was at Droushia Heights Hotel back in October of 2017. Renowned for their dancing, we were used to this pair leading others on the dance floor but Eddie joined us on stage while we did a double encore and proceeded to dance with every lady on the front row. We loved it and he certainly did. We jived, shimmied, sashayed, held hands and wiggled with him. The song he danced with us to was Mercy by Duffy, a very sexy upbeat number. It will be included in our repertoire on the 28th, hopefully we can sing it without getting upset, just fore-warning you all so you know!
When we finished the audience and Zingers carried on with a private party until early morning.
Our 2018 Droushia performance is organised for Sunday 28th October 7.30 pm. What better way to remember a very good friend than dedicate this event to our dear friend Eddie.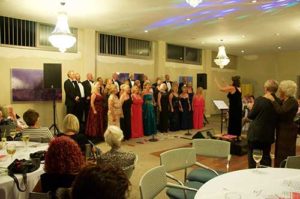 We have had to change some of our songs as Eddie loved our upbeat dancing numbers so the night will not be one of sorrow, rather a celebration of memories with a party atmosphere. Our Droushia gig is now called, Songs for Eddie.  As usual all the proceeds will be going to Cancer Patients Support Group.
When we announced our intention, people were booking their rooms at the Droushia Heights Hotel and tickets are selling fast , 5 Euros a ticket for a great party night won't break anyone's budget & all for a great charity.
To personalise our event more, a very good friend of Eddies, Graham Burns has been asked to be Master of Ceremonies on the evening. There will be a quality raffle and an auction of a very top quality item donated by Glen & Andreas of Ampersand Interiors. There may be a surprise guest too.
Droushia Heights offer a great Sunday lunch so why not come earlier & eat before our show.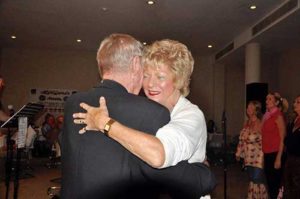 So, we would like to invite you to join this evening full of songs to get you on the dance floor, then join the Zingers to party together afterwards in honour of a lovely man who is missed by many. It will be a fun night and the hotel are doing great deals for B&B on this night.
If there are any companies who would like to sponsor this event call Jeannette on 95117980 or anyone who can donate a quality raffle or auction item, call me on 99370103
Tickets can be purchased from our Events Coordinator Mick Roberts on 97671172 or if you know any Zinger they too will have tickets. Don't leave it too late as the hotel is now half booked up & I'm writing this in the sweltering heat in August.
We look forward to partying the night with you.
Visit the Paphos Zingers Facebook Page
Book rooms at Droushia Heights via Bookings.com
Please follow and like us: