PAPHOS TIGERS – THEY'RE JUST ANIMALS!!
By David Hart, Director of Rugby and Coaching
When it comes to being smart, The Paphos Tigers front row are right up there with dolphins, apes and elephants. We may not have the memory of an elephant so we'll have to leave big impressions where ever we play. Our front row of Simon, George and Pablo quote "women are like elephants. I like to look at 'em, but I wouldn't want to own one"
Following their "We need new Tigers " campaign featuring Lara the  baby tiger with our captain Jack Bilton, the Tigers continue their association with Paphos Zoo by introducing the new Elephants with the key element of their pack, the front row.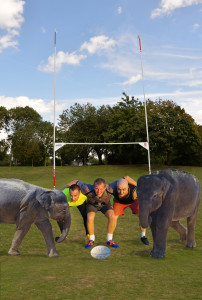 "There is no creature among all the Beasts of the world which hath so great and ample demonstration of the power and wisdom of almighty God as the Elephant." Edward Topsell, The Historie of Foure-Footed Beastes
We are looking forward to the CRF league starting on Saturday October 3rd  with a home fixture v's Akrotiri Rugby Club. Kick off is at 2.45pm. This will be a highly competitive game with the new players from both clubs wanting to win their first League match so please do come along and support us and have a great afternoon spectating.
We at Paphos Tigers have made a conscious decision that we want more from rugby than the norm – we want to pursue improvement in every aspect with a lot of hard work and to be in contention for winning the league. It is right up there in every squad  member's minds. We will be giving everything and let's see where we end up. Let's do something wonderful, do something magical. Let's bring something different – that's what Director of Rugby David Hart is looking for this season. Being adventurous when you need to be, doing the right thing at the right time, being brave and letting the ball go if the opportunity is on for others.
Stop Press
CRF fixture list available in mid September
Cyprus International v Latvia at Pafiako Stadium Paphos on November 7th. K.O. 2.30pm.
Please follow and like us: