We have excellent athletes who regularly win races and collect trophies, but what PRC really excels at is helping and guiding newcomers to achieve much more than they ever thought possible.
There is an athlete inside everyone, but you will never know what YOUR athlete could achieve until you try, so why not come and find out?
PRC Sole Sisters (8am Monday, Wednesday, Friday)
You may not consider yourself an athlete, and the same could have applied to our Sole Sisters a while back, yet this group is undoubtedly the most successful "Start-Up" exercise group in Cyprus.
Since 2017 we have coached literally dozens of "mature" ladies from "Couch to 5km" via a gradual 9-week programme, and in recent competitions, several Sole Sisters completed 10km and even half-marathon events.
PRC Wheelnutters (8:30am Tuesday, Thursday)
One of our cycling groups performs a similar function to Sole Sisters by encouraging and coaching anyone who can ride a bicycle to improve their riding skills and abilities.
From just a 10kms coffee ride three months ago, the Wheelnutters cycling group has now ridden up to Kathikas and along to Pissouri, with a planned ride up to Troodos in the autumn.
Lefkara Vertical Challenge and Country Run 8/9 April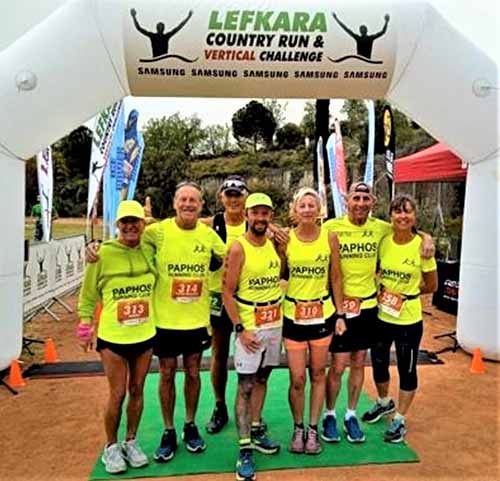 This weekend is always VERY challenging! On Saturday afternoon we set off with over 100 other runners, on a route rising 480m in just 4kms! It was incredibly tough, so we were very pleased with three age-group wins plus a second and a third place.
Sunday's Country Run over rolling terrain was an action replay. In the 13km race we won three age groups, plus a second a third and a fourth place, with Mark coming second in his age group in the 23km race.
The Vertical Challenge the previous afternoon had really taken its toll on our legs of course, but the sense of achievement for all of us was immense. It was a great, well-organised weekend, with lots of fun, laughter, food and a party atmosphere, so we will surely go back next year.
Triathlon Training 15th April
Perfect conditions again meant a great turnout for our 20th Triathlon session with some excellent performances promising a repeat of our usual success in the forthcoming Activate Cyprus Paphos Triathlon, which always attracts an international field.
Paphos Park Run 8am 7th May
Due to continuing roadworks, the Paphos Park Run will start in Poseidonos Avenue, 3kms along from the harbour,
Opposite Aquamare Beach Hotel Poseidonos Avenue
Enter FREE via the Paphos Running Club Website
REGISTER ONCE FOR THE WHOLE SERIES
BRING YOUR BAR-CODE EVERY TIME
CONTACTS:
For more information see our Facebook Page or come along 08:00 any Saturday to Coral Bay Bus Terminus for an all-abilities activity, followed by breakfast in the Frog and Toad.
www.paphosrunningclub.org
Facebook: Paphos Running Club
President Sue Cordrey +357-9763-8375
Running Captain Allan Devereux +357-9998-3352
Walking Captain Truus Shannon +357-9676-3708