"Mad Dogs and Englishmen?"
The midday Sun is certainly not for us, so instead we have a variety of virtual "Dark Night" challenges, held between 8pm and 8am which cater for all tastes and allcomers, including swimmers, runners, walkers and cyclists. September however, sees the start of our build up for the active winter season:
Training Programmes 26th September
Starting on Monday 26th September we have two training programmes open to allcomers so you can sign up for one of them right now by contacting Sue Cordrey (below) and get yourself toned up before the Christmas Calorie Catastrophie!
The feedback we get from these programmes is people are surprised by what they have achieved, simply by being guided through our step-by-step approach.
Couch to 5km Programme (9 weeks)
This easy-start programme begins very gently indeed, so it is tailor made for those either resuming running or venturing into it for the first time.
5km to Half-Marathon Programme (12 weeks)
5kms not far enough? Then this is the programme for you. All abilities welcome, same gradual approach as the 5km programme.
October Charity Events
Don't miss our Breast of Friends 5km Run/Walk from the harbour on 15th, or the coffee morning at the Frog and Toad Coral bay on 27th.
Triathlon Training Sessions
The emphasis in this heat has swung towards weekly open water swimming training under the guidance of our current British Masters Swimming Gold Medallist Martin Hodge. As with most things, the tricks of the trade can count for a lot on race day, so we are very fortunate to have Martin in our team.
Paphos Park Run 7th August
"Whilst the cat is away the mouse will play", so with July's course record breaker Panayiotis Antoniou representing Cyprus in the Commonwealth Games Triathlon, Aidan Holgate shaved 11 seconds off Panayiotis' record to finish in 16m:32s.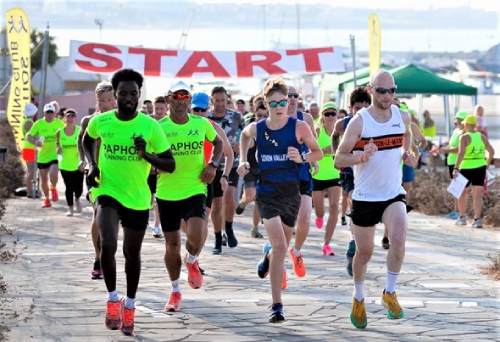 Munir Ahmed (3rd), Ioannis Aresti (6th), Will McNally (2nd), Aidan Holgate (1st)
Don't miss our next Paphos Park Run, on the first Sunday in every month, along the scenic coastal path route starting near the Fort in Paphos harbour.
Paphos 5km Park-Run 8am Sunday 4th September
Course Records: Men 16m:32s Women 17m:24s
Enter FREE via the Paphos Running Club Website
REGISTER ONCE FOR THE WHOLE SERIES
BRING YOUR BAR-CODE EVERY TIME
Contacts:
For more information on all the above, see our Facebook Page, or better still, come along 07:15 any Saturday to Coral Bay Bus Terminus for an all-abilities activity, followed by breakfast in the Frog and Toad.
www.paphosrunningclub.org
Facebook: Paphos Running Club
President Sue Cordrey +357-9763-8375
Running Captain Allan Devereux +357-9998-3352
Walking Captain Truus Shannon +357-9676-3708