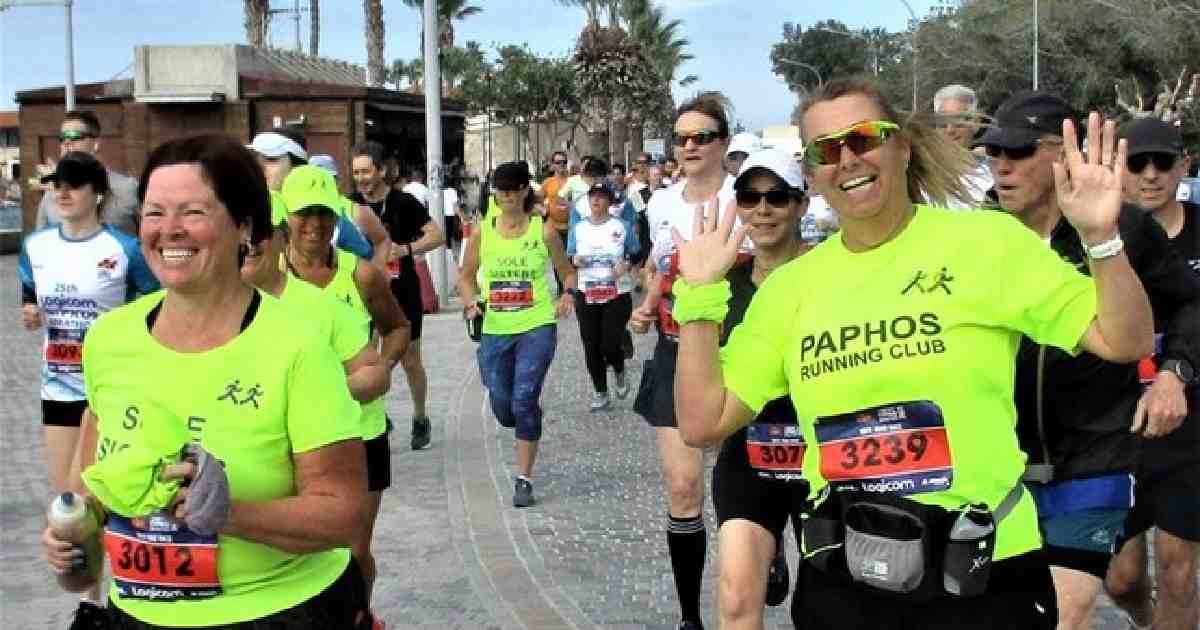 Running, Biking, Swimming and Hiking isn't all we do, but it is difficult to find a catchy little phrase which rhymes with either "Orienteer" or "Dragon Boat" now isn't it?
RUNNING
Logicom International Marathon
As our club name implies, we do tend to do quite a lot of "running", as we like to call it, even though for most of us a more accurate description would be "jogging"! (My own speciality is shuffling).
We have some excellent runners of course, many of whom were competing in the Logicom Marathon extravaganza on 12th March, and as a thriving club, we again exceeded our expectations with numerous podium places and age group wins in the Marathon, Half-marathon and 10km races.
With times ranging from around 50 minutes for 10kms, 1 hour 40 minutes for a half-marathon and 3 hours 45 minutes for the marathon, notable performers included Duncan Cooper, Kathy Jackson, Thecla Strydom, Lee Stevens, Marina Melvin, Carla Poole, Chetna Grimshaw, Karen Bury, Steve Jobson, Sue Rowland and Liz Dunlop, plus a few others.
In support of these events (organised by Stavros Kakourides, himself a well-known Cypriot marathon runner of yesteryear), we are very proud to have provided more athletes, officials, lead cyclists, water stations and helpers than any other athletic club. Anywhere.
Sole Sisters
Whilst on the subject of running, you may recognize these two from last month's report of our annual Gala Dinner, here flanked by a few of our other Sole Sisters!
Impressively, several Sole sisters completed the 10km race in just over an hour, or the Half-Marathon in slightly over two hours, but the new intake for the C25K (couch to 5kms) programme which started on 13th March, is already well ahead of schedule so watch out ladies, you cannot rest on your laurels!
Next Paphos 5km Park Run 8am 2nd April
Along the Coastal Path from Ta Πbania
Enter FREE via the Paphos Running Club Website
REGISTER ONCE FOR THE WHOLE SERIES
BRING YOUR BAR-CODE EVERY TIME
BIKING AND SWIMMING
Ayia Napa Triathlon 19th March
We are making great progress in this increasingly popular sport, with LizDunlop winning her category at Ayia Napa, and both Kirsty Fitzsimmonsand Dmitry Vinogradov coming second in theirs.
Next month we will have very capable solo triathletes competing in several international triathlons here in Cyprus and in Malta, and on April 30th we will as usual be very well represented in the Paphos triathlon by both individuals and teams.
HIKING
Our walking group goes from strength to strength with a mixture of easy strolls and slightly more adventurous hikes scheduled every week.
CONTACTS:
For more information see our Facebook Page and contacts below, or better still, come along 08:00 any Saturday to Coral Bay Bus Terminus for an all-abilities activity, followed by breakfast in the Frog and Toad.
www.paphosrunningclub.org
Facebook: Paphos Running Club
President Sue Cordrey +357-9763-8375
Running Captain Allan Devereux +357-9998-3352
Walking Captain Truus Shannon +357-9676-3708