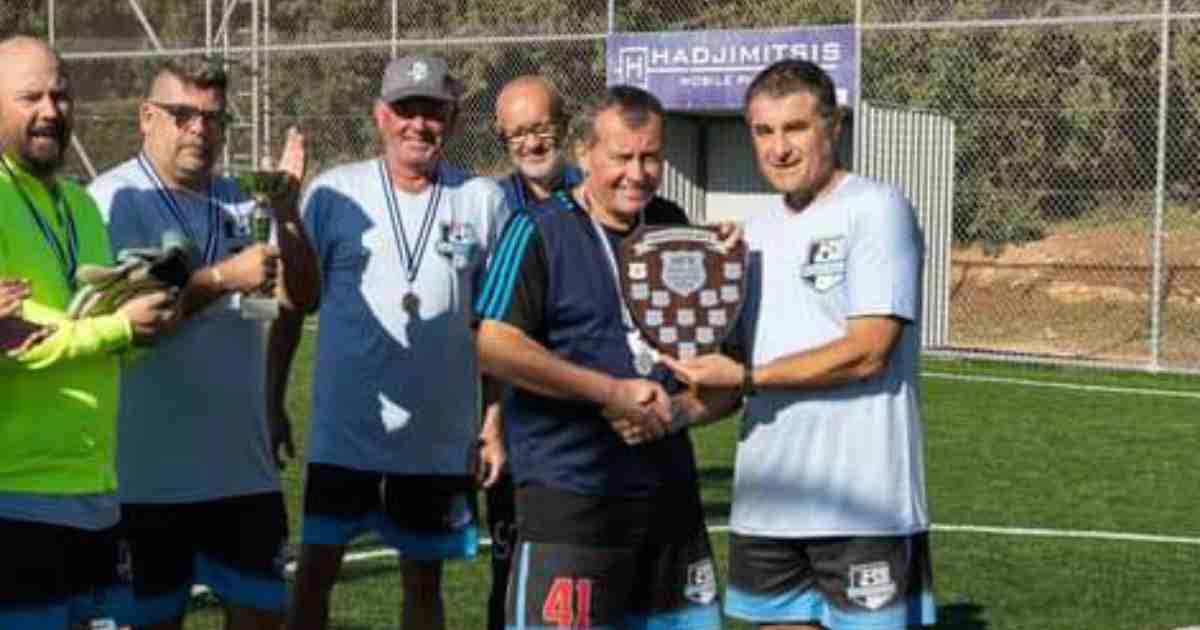 Our Inter Age competition held at the end of November proved a great success. Our ladies team taking part for the first time did well to hold our over 70s to a 0-0,draw.The eventual winners were the youngsters the under 60s They were equal on points at the end of the tournament with the Over 60s but in a mammoth fifteen shot penalty competition Alan Clarke finally scored the winning penalty.
Photo shows captain Alan being presented with the trophy with winning team behind him.
We are very grateful to one of our sponsors The One Stop Coffee shop from Emba who have provided all the players with t shirts emblazoned with both the club and the One Stop logos.
We have recently decided to support local charity Cans for Kids. Money raised from the collection of cans in various cages throughout the area go towards medical equipment for children in Cyprus. We are pleased to sponsor one of the cages in Peyia.
At the beginning of December over 70 of our members enjoyed a Christmas get together at the Mulberry Taverna in Tremithousa. This was one of the many social events we arrange throughout the year.
We continue to attract new members both men and women. Consequently, we have increased the number of sessions with the evening sessions proving especially popular.
More information on Walking football can be obtained by contacting our secretary John on:
[email protected]