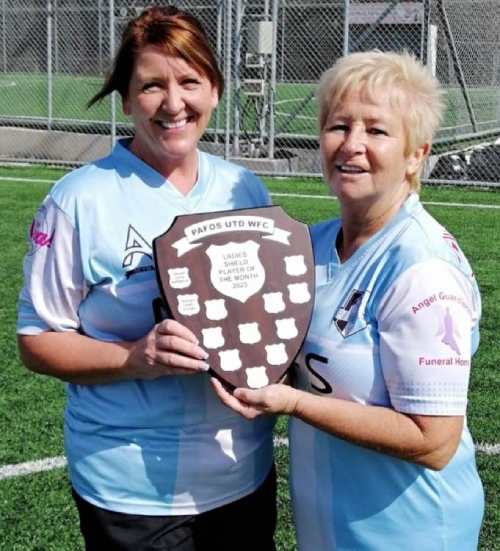 We have been concentrating this month on final preparations for our tournament at the end of March when we entertained six clubs from the UK. The tournament is now completed and we hope the hard work in preparation will have proved a success.
The tournament received wide publicity and as a result we have received numerous enquiries from teams wishing to come to the island.
Our next visitors will be the women of Midlothian WFC who are making a welcome return in mid-April.
Our priority for April is the Open Day we have arranged for Saturday 8 April.it is open to women over 40 and men over 50 who wish to have an introduction to walking football and regardless of ability we encourage anyone interested to come along. The open Day is at 10am until 12 at the Fairgame Sports Centre in TremIthousa. All that is required is a pair of trainers to take part.
It is appropriate that our Women's Player of the Month goes to a player who had barely kicked a ball before joining us and now her enthusiasm, willingness to learn and great improvement has resulted in receiving the award. Congratulations to Debbie Jeavens (photo shows Coach Evie Johnstone presenting the award to Debbie.)
The men's award went to Russ Edmundson. Russ is one of our most enthusiastic dynamic players who after a number of health issues has come back strong and is a great inspiration both on and off the pitch.
The club are also proud that Steve Drew and Emma Baxter completed the 5k run in the Cyprus marathon day whilst Tony Baxter and Geoff Dixon completed the half marathon.
Another of our members Jackie Scattergood was part of a doubles team winning the Cyprus National Bowls competition.
More information on our activities from [email protected]