Thanks to a certain budget airline, it is now possible to fly directly (and cheaply) from Paphos to Krakow in Poland. I can strongly recommend the visit. Krakow is a beautiful city, the people are friendly and there is lots to see and do. Best of all, it is packed with History. Krakow is unusual in Eastern Europe because it was one of the few major cities that was neither fought over nor seriously bombed during World War 2. As a result it has been able to preserve its medieval character in the old city, parts of which have now been pedestrianised to make it even more tourist-friendly.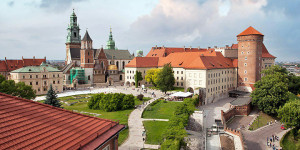 There are four parts of Krakow which will be on every visitor's list, and which tell different stories about Krakow's past.
First is Wawel Castle. This well-preserved medieval castle covers a large area on top of a hill overlooking the Vistula River. It is made up of many buildings and churches, now mostly dating from the 14th Century. The castle is where the original settlement of Krakow started, on an easily defending hill with the river for trade. It is thought the earliest fortified settlement was built before 1000AD. Its glory days began when King Wladislaw "The Short" made Krakow the capital city of Poland and was crowned there in 1319. It remained the Capital city for more than 200 years, and even after the capital was moved to Warsaw, it remained the place where Kings were crowned and buried- and one of their favourite palaces. The castle bristles with fantastic towers and is home to some fabulous treasures, including a Leonardo da Vinci painting and many medieval tapestries. Notoriously, the last man to actually rule Poland from Wawel Castle was Hans Frank, the brutal (and corrupt) Nazi who ran German-occupied Poland from 1940-5
Second is the Market Square. This is a vast open square, the main trading centre for Krakow for Centuries. Originally laid out in the 13th Century it measures around 200 metres square, making it one of the largest squares in Europe. Elegant old houses surround the square which is now dominated by restaurants. In the centre is the huge Cloth Hall built in the 14th Century which has been described as the World's first Shopping Mall. Today as always it is packed with stalls, these days mainly selling traditional Polish souvenirs. There are some spectacular old churches, the remains of a medieval Town Hall, and the strange custom of a trumpeter playing a few notes on the hour every hour from the top of a church tower to remember an incident in the Middle Ages when a trumpeter managed to warn the people of an attack before he was shot in the throat.
Third is the park surrounding the old town. This too reflects Krakow's long History. Poland in the 16th Century was the largest country in Europe and Krakow flourished as its capital. But it fell into decline in the 17th Century and Poland was wiped off the map from 1795 until 1918. For part of that time Krakow fell under Austrian rule, and it was during their time in charge that the Austrians decided to tear down the medieval city walls.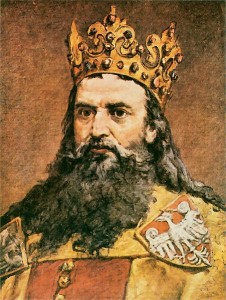 However, instead of building houses or roads where the walls had been, the Austrians built a park. Now it is possible to walk around the whole old city in a lovely park with large graceful trees- very welcome after coming from hot dry Cyprus. The park abounds with birds, cyclists, statues and well-behaved dogs being walked.
Lastly the visitor should go to the Jewish Quarter. This lies a short walk outside the Old Town. Once Krakow boasted one of the largest Jewish communities in Europe. It was King Casimir the Great (pictured) in the 14th Century who encouraged Jews to settle in Poland and their district of Krakow was named Kazimierz after him. After thriving for 500 years the Jews of Krakow were wiped out by the Nazis- a tragic piece of History made famous by the film Schindler's List (much of which was shot on location in Krakow). Today the area is again bustling with Jewish restaurants and well worth a visit.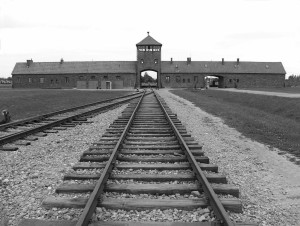 Poland has known more than its fair share of disasters and foreign conquests- Auschwitz, about an hour's drive from Krakow, is another grim reminder of Nazi rule- but today is a thriving democracy. And a good way to get a feel of both Poland today and its astonishing History is to pay a visit to Krakow.
Article by Wally Oppenheim
Please follow and like us: