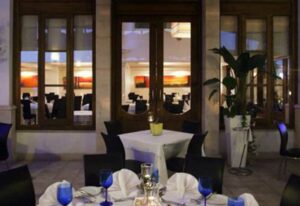 This is not an advertisement, but something we want you to have in mind for the very near future. By the end of April we will be opening the new Happy Hours wine bar and restaurant in Terra e Mare. Our main target is to provide top quality, fresh, homemade food at the very best possible prices. First Class Service is always our top priority.
In a very friendly, civilised environment and ambience we will be offering a full A La Carte Menu, Comfort Food and also a choice of two 2-course set menus (the Silver and the Gold). All our grilled dishes will be cooked on real wood charcoal. Also our drinks, wines, prosecco and champagnes will be at unbelievably good value.
We will use mainly local suppliers from nearby villages to provide the freshest vegetables, meat and fish (from sustainable sources).
Our plan is to create special theme nights (cheese and wine, wine tasting and other special events). One afternoon per week we are also planning a special English Afternoon Tea.
Both myself, Mamas, and my brother Demitris have a long and proud history (over 30 years) in the Limassol restaurant business. We are passionate about our work, in providing our customers with a wonderful dining experience.
In conclusion, our aim is to provide you with the best quality food, wine, service and ambience at the best value prices you will find anywhere in Limassol. We look forward to welcoming you for a drink, a coffee or a light dinner. We also have plans to open for lunch in the near future.
For the time being we will only be opening for dinner, from Tuesday to Saturday.
For more information please call Mamas on 99205343.
HAPPY HOURS LAUNCH PARTY
We will be holding an invitation only opening party for the new Happy Hours Wine
Bar and Restaurant at the end of April. It will be a fantastic evening with:
FREE FOOD, FREE DRINKS AND
RECEIVE A VOUCHER FOR DISCOUNT ON YOUR NEXT VISIT
To receive your invite please text your name and email address to 99205343