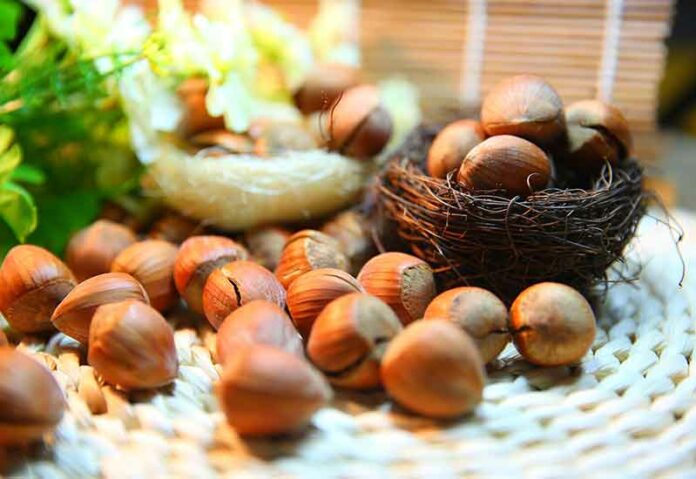 The popularity of hazelnuts seems to be increasing, especially with various hazelnut-based bread spreads and chocolates available in the departmental stores. However, hazelnuts and their benefits can be traced back to ancient times. It had been popular as a flavoring agent in the liqueurs and coffee, while its oil had been popular as a cooking medium.
A powerful antioxidant, hazelnut is an ideal source of protein for the vegetarians, especially if you are on the weight loss journey. 100 grams of  hazelnuts offers 15g of protein, fulfilling more than 30% of the daily requirement. It is also a rich source of healthy fats, free of cholesterol and sodium, meeting 93% of your daily fat requirements
Hazelnuts make a tasty snack and are a great addition to many dishes. When a person includes them in a balanced, calorie-controlled diet, the nuts  provide several health benefits.
Hazelnuts contain: vitamin E, healthful fat, protein, dietary fiber
Eating more hazelnuts may improve a person's health in a variety of ways: support bowel movements, reduce weight gain, protect against cell damage,lower levels of harmful cholesterol, improve insulin sensitivity, support heart health, and reduce inflammation. Unless a person has an allergy, there are few risks to adding hazelnuts to the diet. They are versatile and make an easy snack.
The Pitsilia region is blessed with a Hazelnut Forest, ready to be discovered by the visitors of the Hazelut Festival in Platanistasa, through  the organized guided walks , with the option to pick up your own fresh  hazelnuts and enjoy the clean air and amazing flora of the area.
Platanistasa village is located,  14 km southwest of Mitsero, in the northern side of Troodos in Pitsilia region, at the  altitude of 940 meters.  The village of Platanistasa together with some other villages was granted  in 1474 to a relative of Catherine Cornaro, Queen of Cyprus. The Byzantine church of the Holy Cross of Agiasmati, which is a UNESCO World Heritage site,  will be open for the public during the day.
Gastronomy with hazelnuts with some unique products like the Hazelnut liquer and biscuits will be available for tasting and sale, as well as the amazing  local sausages and smoked items, known for their high quality ,and the freshly  cut hazelnuts with some Zivania will be provided to visitors for free.
The entertainment will include, live traditional music and dances.
Feel the magic of the Hazelnut Forest & indulge yourself to a culinary hazelnut journey, by visiting the Hazelnut Festival this year.