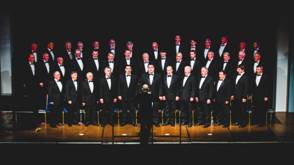 Achord Community Choir, Cyprus, are once again extremely proud and excited to be hosting one of North Wales's top Male Voice Choirs – "Cor Meibion Rhosllanerchrugog" – to Cyprus and sharing the stage with them in both Limassol and Paphos.
"Rhos Male Voice Choir" is from the village of Rhosllannerchrugog (Rhos), some five miles south-west of Wrexham. Formed in 1891 the choir has, since then, been in the forefront of male voice singing. It is widely recognised as being one of Wales' foremost choirs and its record in the competitive field is second to none.
Over the years the choir has undertaken many overseas tours taking their music to countries such as America, Canada, France, Germany, Italy, Spain and Switzerland. They have performed at many well-known venues, namely the Chicago Opera House, the Liederhalle in Stuttgart, Birmingham Town Hall, the Philharmonic Hall, Liverpool and London's Royal Albert Hall to name but a few. In the competitive field, Rhos Male Voice Choir has achieved first prize at the National Eisteddfod of Wales many times, won at the Llangollen International Musical Eisteddfod several times, twice won the BBC Radio Choir of the Year competition, been successful in the HTV Festival of Welsh Choral Music and won the Gold Award for the best choir at the Glarner Music Festival in Switzerland where they defeated 112 other choirs. The choir won the inaugural Melody Music Golden Nightingale Male Choir Competition at the Bournemouth International Centre. They received a cheque for £3,500, a cup and the specially commissioned "Golden Nightingale" statue. Rhos Male Voice Choir has appeared before Royalty on many occasions and has taken part in a Royal Command Performance.
Last May, Achord were delighted to host the Rhos Orpheus Choir, from the same village as the Rhos Male Voice Choir, where they gave three performances – all of which were met with standing ovations and shouts for "more". Achord are looking forward to a similar week of shared performances and sell-out audiences this April, when they give three performances with the brother choir – Cor Meibion Rhosllanerchrugog.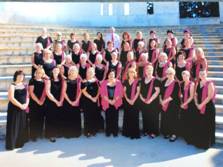 Julie Edwards, the Musical Director of the Cyprus-based Achord, said "It is a real honour for the ladies of Achord to be hosting the Rhos Male Voice here in Cyprus. Coming from Rhos myself, it is very special to have such an acclaimed choir, many of whom I know from growing up in the village, coming over to share valuable performance opportunities with us. Achord has gone from strength to strength in its four years of existence, and we can only continue to learn from a choir such as this about the various aspects of musical performance and about quality and professionalism. I'm sure that our week of music-making in April will be as successful, if not moreso, as last May's experiences with a similar calibre Welsh male Choir. Tickets are already selling for both of the formal concerts below so I would urge people to call and reserve their tickets soonest so as to avoid disappointment. These are going to be two very special concerts that should not be missed".
If you would like to reserve tickets for either of the concerts below, and possibly book in for the post-concert buffet dinners, please call 99741972 or 99904992.