We've certainly had a lot of rain in Cyprus over recent weeks with the press reporting that average rainfall in December reached 169 per cent of the normal for the season. On an island that has a problem with water shortages this can only be a good thing.
According to figures released today on the website of the Water Development Department, reservoir storage today stands at 28.3% of capacity.
The current combined total water stored in the reservoirs is 82,262 MCM (Million Cubic Metres), or 28.3% of capacity, which is over twice the amount this time last year when the figure was 40,234MCM, or 13.8%.  It is also higher than the maximum storage for 2018 which was recorded on 4th April at 68.617 MCM.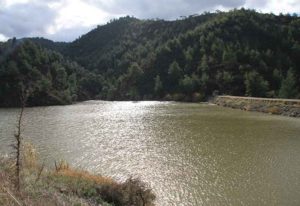 The statistics show that of the 18 reservoirs on the list, three are currently at 100% capacity and are overflowing.  Admittedly these are the two smaller dams at Argaka and Pomos in Paphos District and Kalopanagiotis Dam in Nicosia District and it is not unusual for them to overflow during the winter months . At present four of the other smaller dams have current levels at between 59.7% and 94.7% of capacity.
The three largest dams, responsible for the majority of our water storage, are Kouris (Total Capacity 115,000 MCM), Asprokremmos (Total Capacity 52,375 MCM) and Evretou (Total Capacity 24,000 MCM). Kouris' current storage is at 21.1% which is over two and a half times more than the same day last year when it stood at only 8%. Asprokremmos is at 37.1% compared to the 19.3% recorded for the same day last year and Evretou is at 43.6% compared to the 29.2% recorded for the same day last year.
All three of these dams' current storage is greater than their highest recorded levels for 2018, which were: Kouris, 20,025 MCM on 6th March 2018, Asprokremmos 15,301 MCM on 16th March 2018 and Evretou, 10,423 MCM on 12th April 2018.
The current 28.3% of storage is indeed good news but we still have a long way to go to beat the island's water shortage problems. It remains important for us all to limit our water consumption and avoid complacency.