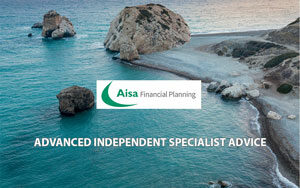 Aisa Financial Planning proudly announce our new office in Paphos Town, catering for all your financial planning needs.
They are located at the ground Floor Offices at 2-4 Filarou Street and the location is easy to find. From Debenhams roundabout head towards Paphos town, we are on the corner of the second left turn, about 200m up heading towards the fire station.
Those people who have been here many years will know the building as the Koroushi Bros offices, nice, smart 4 story building with off road parking for our clients.
To go with that there is a brand new Paphos telephone number, 26 951 600.
Aisa Financial Planning are an award winning firm with national coverage both here in Cyprus and within the UK. We have Financial Planners and Independent Advisers who follow an ethics based culture wholly built around our clients, delivering bespoke financial advice and portfolio services.
Our research and persistence liaising with providers to deliver what is good for you, the consumer, means we can provide intelligent solutions that put you first. Our knowledge and experience helps us to reassure you by delivering best advice and commission free investing, whilst you have the confidence that it is backed up by regulation based in the UK.
Our ethos is to be clear and unambiguous, make you aware of, and understand, the value of our advice so you can establish whether our services offer you value for money.
We remove any perceived bias of commission by not receiving any.
Great advantages to the office location in Paphos – not least it helps us be more efficient and serve our clients better. The expansion of a Paphos comes as the firm has it's 20th anniversary and joins group offices in the UK, France, South Africa, Czech Republic and USA.
We offer both insurance and investment based financial solutions. Whether it is advice on pensions, savings, investments, wealth management or other area. We satisfy the regulatory requirements in Cyprus of both the Insurance Companies Control Services and the Cyprus Securities and Exchange Commission.
Contact us on 26 951 600 or at info@aisagroup.org to set up an initial consultation.
We look forward to welcoming you to the group.